When it comes to power in a road-going automobile, how much horsepower is too much? Some might say there is no such thing as too much, and it seems like a growing number of car companies would agree. Even as car shoppers the world over seek more fuel-efficient rides (and automakers work diligently to deliver those fuel-thrifty cars), automakers have debuted at least a dozen new sports cars that boast more than 1000 horsepower.
One thousand.
The powertrains required to generate that kind of output range from large V8s to fully-electric systems. What follows are the current crop and upcoming range of road-legal machines that make up the 1000-Horsepower Club. Note that several tuning companies will upgrade vehicles to this level of power. However, the vehicles listed here all come with at least 1000 horsepower direct from the manufacturer.
Hennessey Venom F5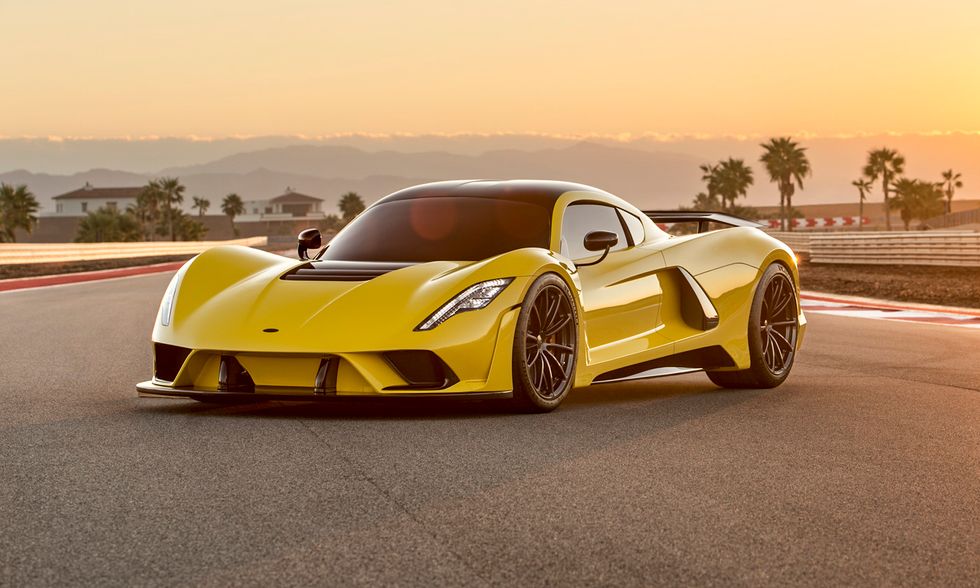 Photo courtesy of Hennessey
Horsepower: 1817
The Hennessey name has long been associated with making cars — and trucks — go faster. Throughout its history, the American tuner has upped the performance on an array of vehicles ranging from sports cars to SUVs. Now Hennessey Performance is building its own vehicle from the ground up called the Venom F5 — a monstrously powerful lightweight hypercar designed for extreme performance. The F5 features a new chassis and a carbon fiber body shaped to have the least possible drag. The sleek shape of the Hennessey Venom F5 is most noticeable from the side, where it sits as low as 3 inches off the ground. (Ride height can be automatically adjusted to navigate driveway aprons, speed bumps and other obstacles). The F5's drag coefficient is.39 Cd and it has a low dry weight of 2,998 pounds.
The limited-edition Venom F5 boasts a rear mid-mounted 6.6-liter twin-turbocharged Fury V8 engine that produces 1817 horsepower and 1193 pound-feet of torque, making it the most potent gas-powered sports car in the world. With so much torque on tap, engine-to-driveline options are extremely limited. Ultimately engineers chose a specially designed semi-automatic single-clutch 7-speed gearbox with paddle shifters on the steering column. With its impressive power-to-weight ratio, the Venom F5 has some equally impressive performance stats. Acceleration to 62 mph (100 kph) takes 2.6 seconds; 124 mph (200 kph) comes up in 4.7 seconds; 186 mph (300 kph) in 8.4 seconds; and 249 mph (400 kph) in less than 16 seconds.
Only 24 Venom F5s will be built to customer specifications at a starting price of $2.1 million each. Deliveries are anticipated to begin later this year.
Koenigsegg Jesko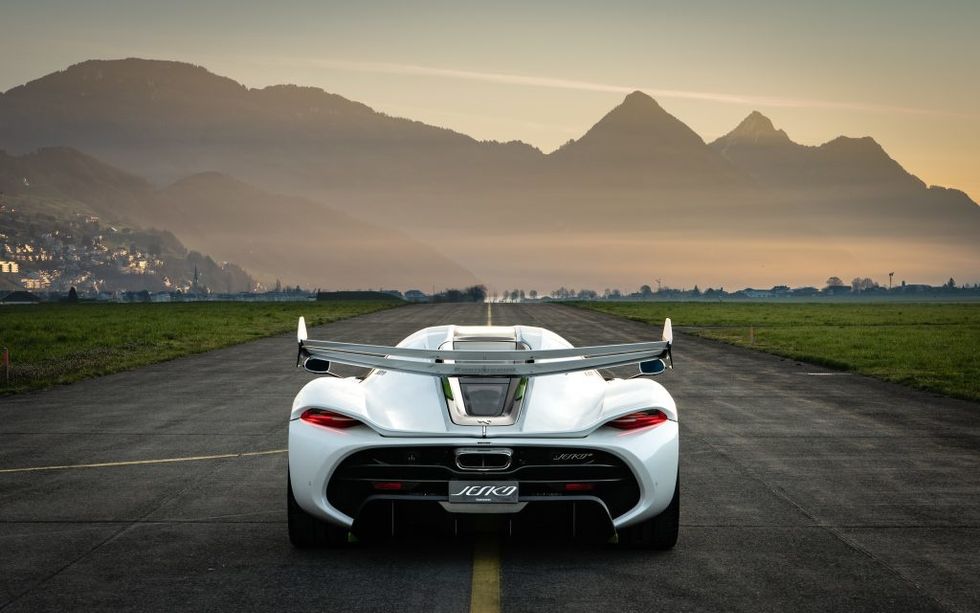 Photo courtesy of Koenigsegg
Horsepower: 1600
This Swedish supercar company chose the 2019 Geneva Motor Show to introduce the successor the powerful Agera RS. The all-new Jesko — named for the founder's father — is a car suited for both street and track. The Jesko's carbon-fiber monocoque chassis is slightly longer and taller than the Agera, which provides a roomier cabin. Styling is clearly Koenigsegg; however, the massive rear spoiler is what instantly draws the eye. At high speed the Jesko generates more than 2,200 pounds of downforce for excellent grip and handling.
Powering the Jesko is a redesigned 5.0-liter twin-turbo V8 engine that produces 1280 horses on standard gasoline, and when fueled by E85 biofuel, the output rating jumps to an incredible 1600 horsepower. This energy gets directed through an all-new 9-speed "Light Speed Transmission" that was designed in-house and allows for practically instant gear changes from any gear to any gear. Koenigsegg also announced that there will be a sibling to the Jesko — the Jesko 300. With less downforce and more streamlined aerodynamics, the Jesko 300 is named for the goal of breaking the elusive 300-mph mark.
Only 125 Jeskos will be sold, and at the time of the reveal more than 80 had been reserved.
Hispano-Suiza Carmen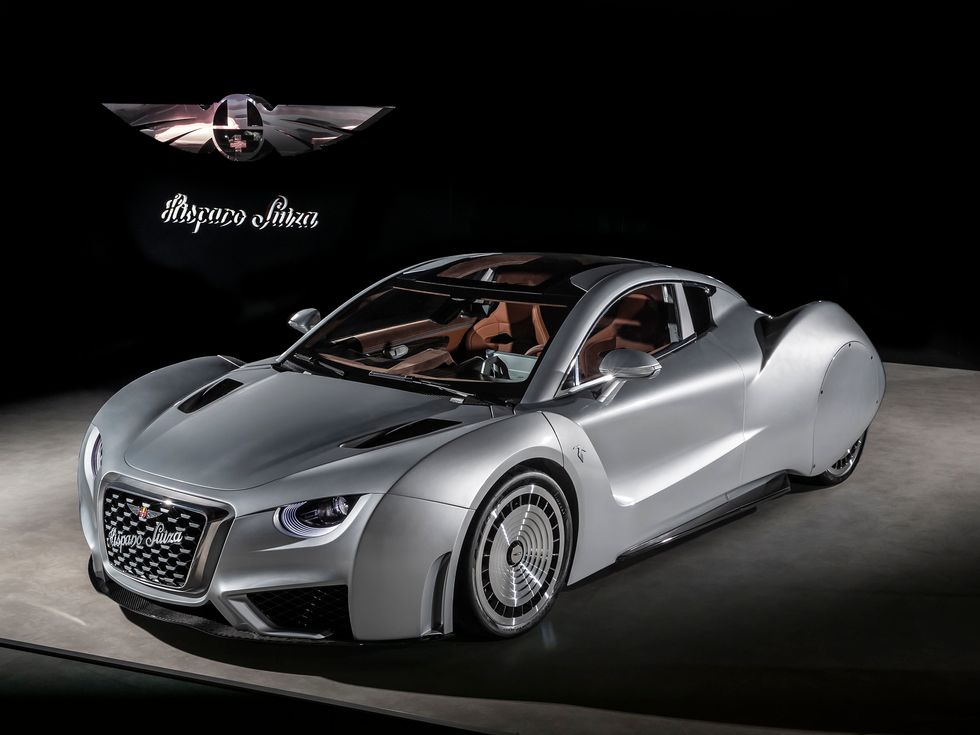 Photo courtesy of Hispano-Suiza
Horsepower: 1,100
One hundred and fifteen years ago, Damián Mateu and Marc Birkigt founded a car company in Barcelona called Hispano-Suiza. Until the mid-1940s the company turned out more than 12,000 luxury automobiles. After what would be considered a rather lengthy hiatus, the company is back with an all-new model that debuted at this year's Geneva Motor Show. Named for Carmen Mateu — the granddaughter of the company's founder and mother of the current president — the Carmen is a fully-electric luxury hypercar. Styling is heavily influenced by early Hispano-Suiza models, particularly the 1938 Hispano-Suiza H6C Dubonnet Xenia, of which only one was ever produced.
While the Carmen may look to the past for style, the powertrain is definitely gazing into the future. Working with QEV Technologies, Hispano Suiza has outfitted the Carmen with two electric motors — one on each rear wheel — that combine to generate just over 1000 horsepower. Power is controlled via a sophisticated torque-vectoring system, allowing the Carmen to rocket to 62 mph in less than 3 seconds. The 80-kWh lithium-ion polymer battery pack should provide range of around 250 miles.
Only 19 Carmens will be built — at a price set at €1.5 million. Deliveries are expected to start in June 2020.
​Aston Martin Valkyrie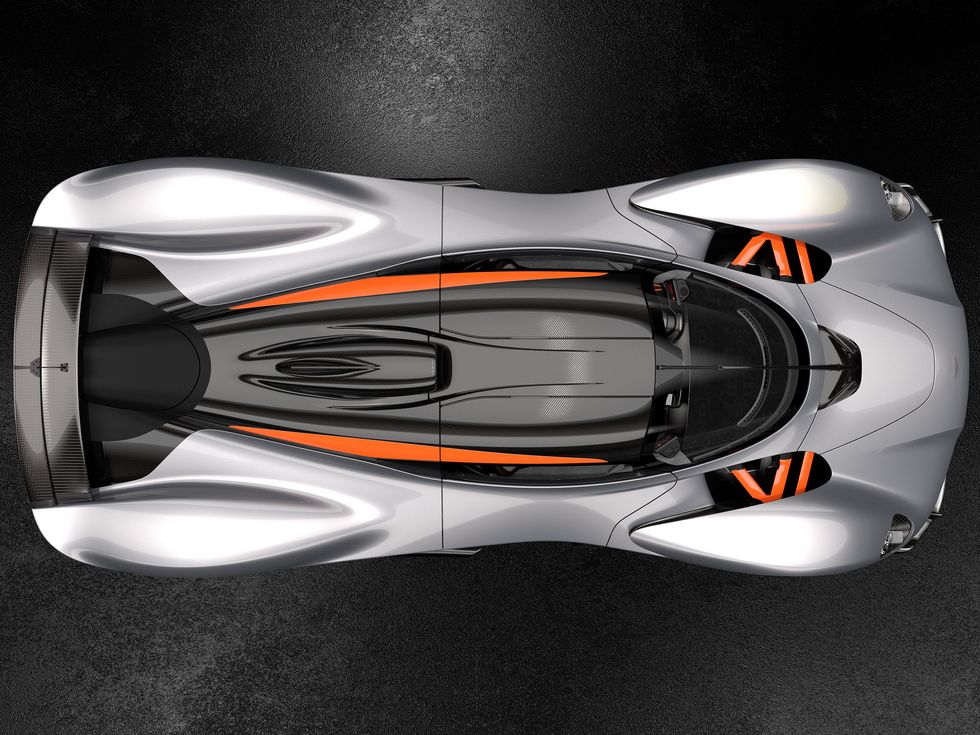 Photo courtesy of Aston Martin
Horsepower: 1160
This British marque is well known for building luxurious high-performance sports cars, but a few years ago the company announced it was introducing its first hypercar. The mid-engine Valkyrie was designed to bring Formula One performance to a street-legal car, making full use of Red Bull Racing's experience and technology on the circuit. The entire vehicle is comprised of carbon fiber — in fact, there is not one steel component in the Valkyrie. With extreme aerodynamics and lightweight construction, handling will be unlike just about any other road car.
With a naturally aspirated 6.5-liter V12 engine teamed with a battery-electric system, total output for the Valkyrie is 1160 horsepower at a screaming 10500 rpm with 664 lb-ft of torque peaking at 6000 rpm. Performance stats haven't been released; however, the Valkyrie likely sprints to 60 mph in under 3 seconds, and top speed could reach 250 mph.
Only 150 Valkyries will be built, and all have been spoken for. Deliveries began late last year.
Mercedes-AMG Project ONE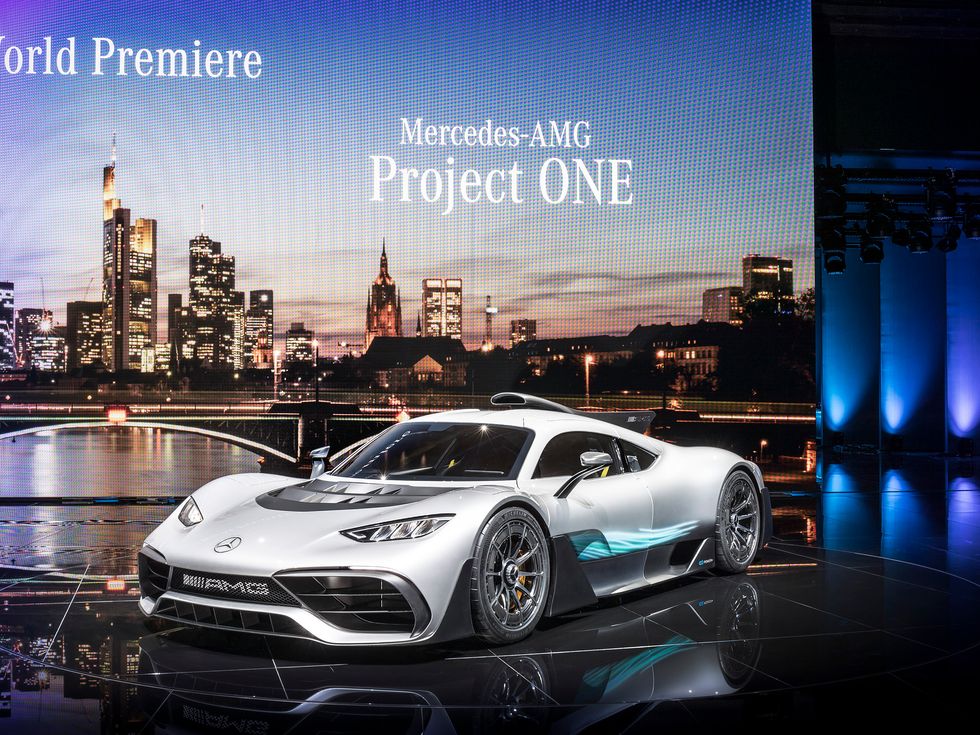 Photo courtesy of Mercedes-Benz
Horsepower: 1000+
A few years ago Mercedes-AMG celebrated the brand's 50th anniversary with the introduction of the Project ONE show car. This sexy 2-seat coupe borrows from Mercedes' extensive Formula One experience and is basically a street-legal race car. When most car companies refer to bringing their racing technology and experience to the street, it usually isn't as literal as what Mercedes-AMG has done. The Project ONE utilizes a full-fledged Formula One hybrid drive system consisting of a hybrid turbocharged combustion engine that employs four electric motors.
Power comes from the same engine found in a Mercedes-AMG Petronas Formula One race car — a 1.6-liter direct-injection V6 that uses an electrically-assisted turbocharger. The electric motor can drive the compressor turbine up to 100,000 rpm in the right situation. The V6 can rev up to 11,000 rpm, and an additional electric motor pairs with the V6 and features a direct link to the driveshaft. As if this were not enough, two electric motors fitted to the front axle provide acceleration and braking at each wheel for better stability and all-wheel-drive control. This very complex system of electric motors, gas engine and turbocharger comes together to produce more than 1000 horsepower. Eschewing the industry-standard zero-to-60 mph stat, Mercedes-AMG is only reporting that this extreme supercar will reach 124 mph (200 km/h) in less than 6 seconds. Top speed is reported at 217 mph.
When Mercedes began showing the car two years ago, the company planned a production run of 275 models. The world waits to see if this will happen.
​Pininfarina Battista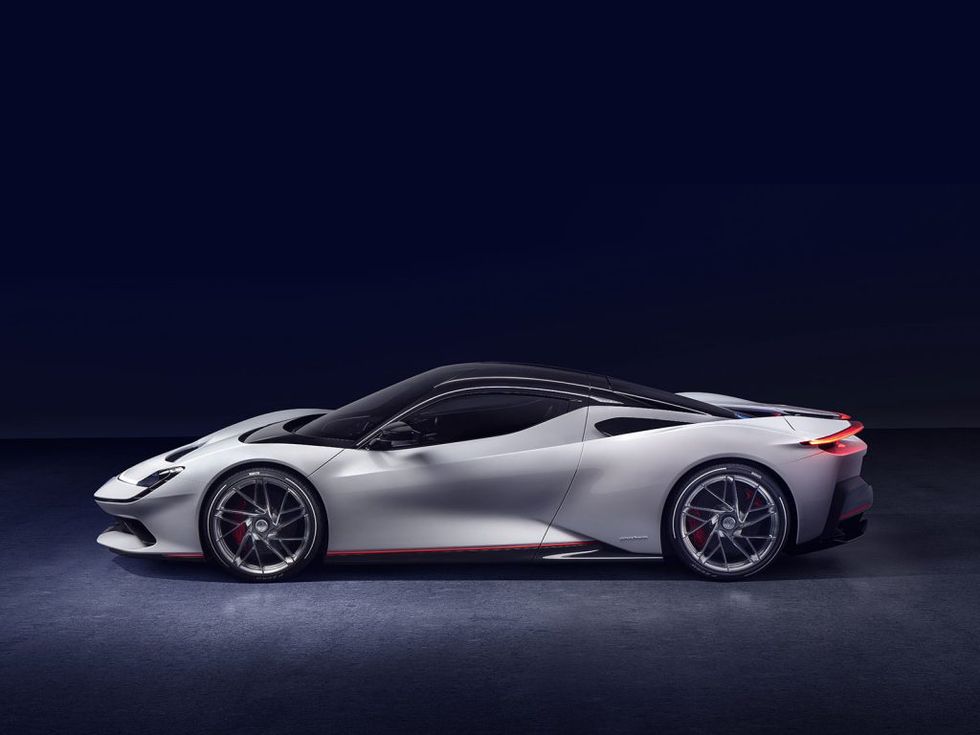 Photo courtesy of Pininfarina
Horsepower: 1900
The Pininfarina name has adorned some of the most beautiful cars ever built, but rather than being the design house for another car company, this time Pininfarina is building its own car. Named for Battista 'Pinin' Farina, who founded the Carrozzeria Pininfarina coachbuilding company in 1930, the new Battista is an all-electric hyper GT car with a stunning carbon fiber body and carbon fiber monocoque chassis. Although the design is completely Pininfarina, the fully-electric powertrain comes from the Croatian car company Rimac.
The Battista gets four electric motors — one at each wheel — for a combined output of 1900 horsepower and almost 1700 lb-ft of torque. This results in astounding acceleration — 62 mph is achieved in 1.9 seconds. With a 120 kWh Lithium-Ion battery pack, the Battista can travel about 280 miles on a single charge.
Deliveries of the Pininfarina Battista will start in 2020 with only 150 expected to be made available. When it arrives, the Pininfarina Battista will be the most powerful street-legal car ever designed and built in Italy.
​Rimac C Two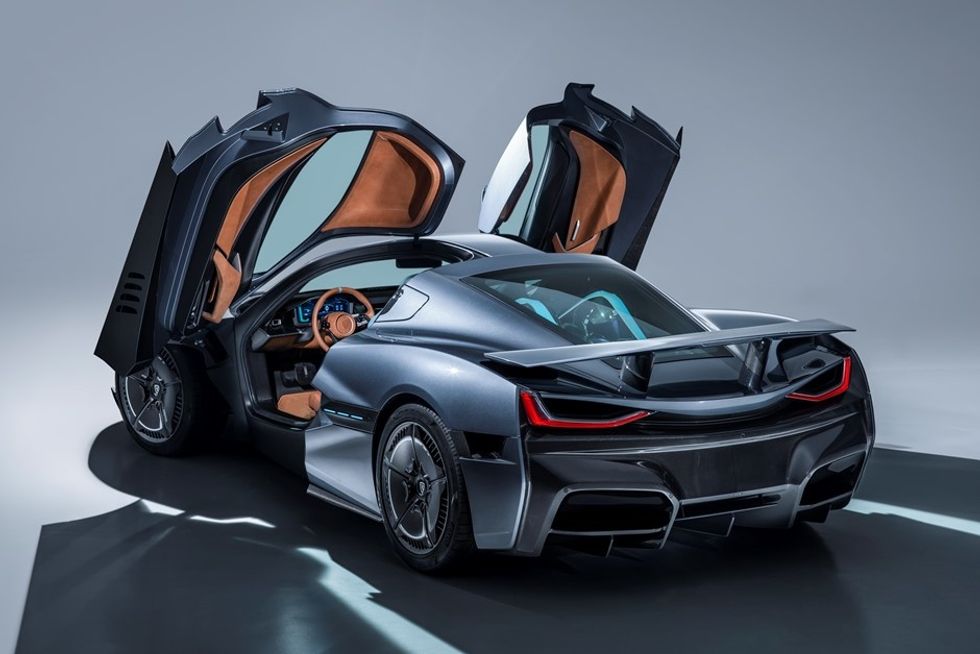 Photo courtesy of Rimac
Horsepower: 1914
One of the most extreme cars in this list — which is a high rung to reach — is the Rimac C Two. The second model from Croatia-based Rimac, the C Two is billed as the most powerful electric hypercar in the world. The C Two is powered by four electric motors — one at each wheel — for a combined output of 1914 horsepower. Almost 1700 pound-feet of torque is generated instantly for acceleration that would leave just about any other car in its dust. The sprint to 60 mph takes 1.85 seconds and it passes 186 mph in 11.8 seconds. Top speed is listed as 256 mph, and Rimac claims the C Two will have a range of 550 km (about 342 miles) with its 120 kWh battery capacity.
The C Two was designed and engineered in house by Rimac and features one of the world's largest single-piece carbon-fiber monocoques. The batteries and powertrain are integrated into the monocoque for greater torsional stiffness. Double-wishbone suspension with electronically-controlled dampers provides a smooth and comfortable ride, while the electric motors at each wheel work together for impressive dynamic control.
The C Two is expected to go into production for 2020. Only 150 will be built, but it will be certified for sale globally — including in the U.S.
​Bugatti Divo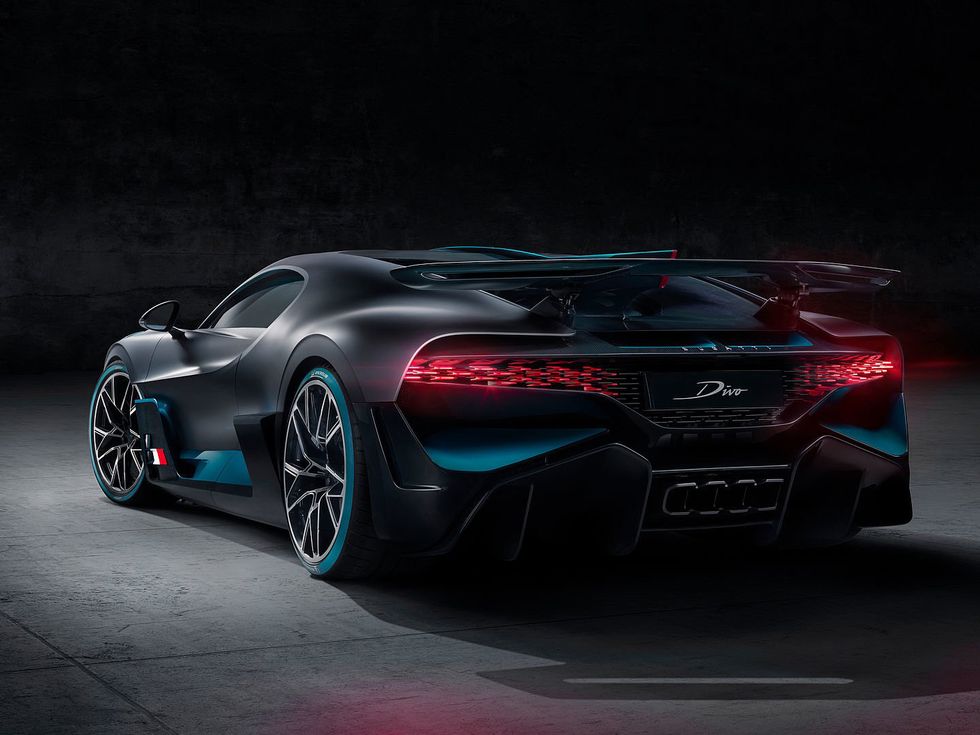 Photo courtesy of Bugatti
Horsepower: 1500
When it comes to the ultimate extreme sports car on the planet, most auto aficionados will think of the Bugatti Chiron. With enormous power and a top speed north of 260 mph, this car resides at a different level than practically any other. However, Bugatti felt it could make a special version that would not only be more exclusive but also offer better handling and performance. Thus the Bugatti Divo, which made its world debut last summer in Pebble Beach. Design changes that differentiate Divo from Chiron are primarily functional — all with the goal of improving agility and performance.
The newly-designed wider front spoiler on the Divo provides higher downforce as well as more airflow, which improves overall cooling. The roof of the Divo has been shaped to direct air into the engine to help manage operating temperatures. Bugatti engineers have also adjusted the steering and suspension for more direct response and sportier driving. While power and acceleration figures remain the same as the Chiron, the Divo is able to lap the Nardo handling circuit a full 8 seconds faster than the Chiron.
Koenigsegg Regera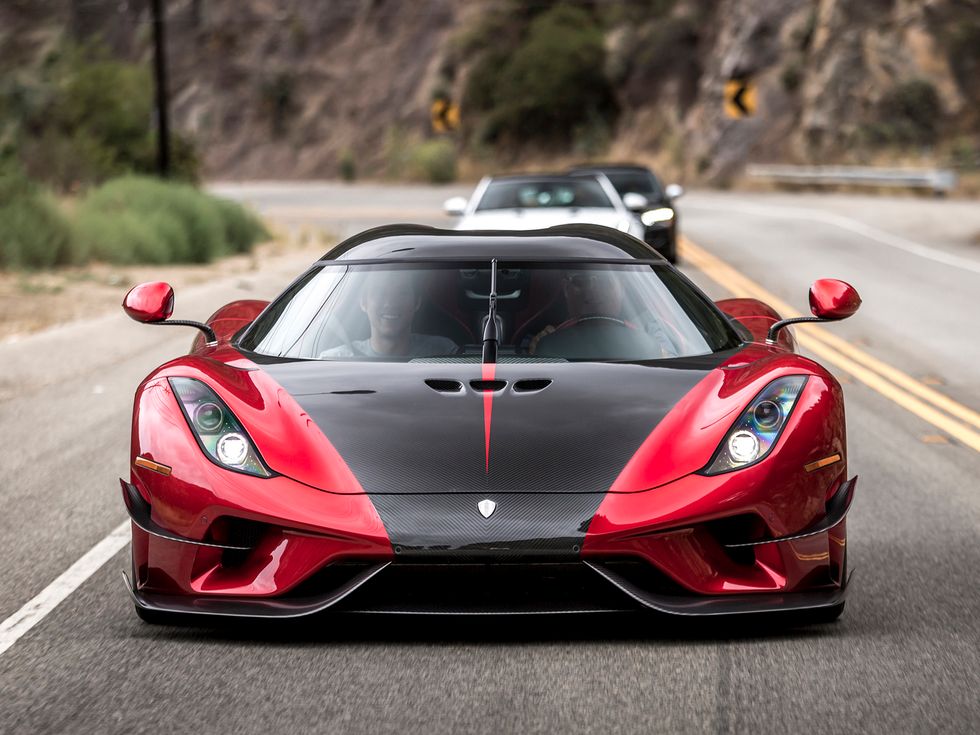 Photo courtesy of Koenigsegg
Horsepower: 1500
Introduced a few years ago at the Geneva Motor Show, the Regera is considered the flagship of the Koenigsegg lineup, combining a high level of luxury with the extreme performance expected from this Swedish car company. Inside the sleek sports car, lucky occupants will find memory-foam power seats, a 9-inch display screen, Wi-Fi connectivity, Apple CarPlay and ambient lighting. The roof is removable and can be stowed under the front hood. Although passengers will enjoy the comfortable interior, this car is really all about extreme performance.
Powering this supercar is a 5.0-liter twin-turbo V8 engine teamed with two electric motors via a unique direct-drive system. With more than 700 horsepower from the electric motors alone, combined output is reported to exceed 1500 horsepower with 1475 pound-feet of torque. Weighing in at 3,500 pounds, the Regera will reach 60 mph in 2.7 seconds and — even more impressive — almost 250 mph in less than 20 seconds. According to the carmaker, the direct-drive transmission delivers extreme performance while offering an impressively smooth driving experience. It is also possible to drive the Regera in complete silence in EV mode.
Lotus Evija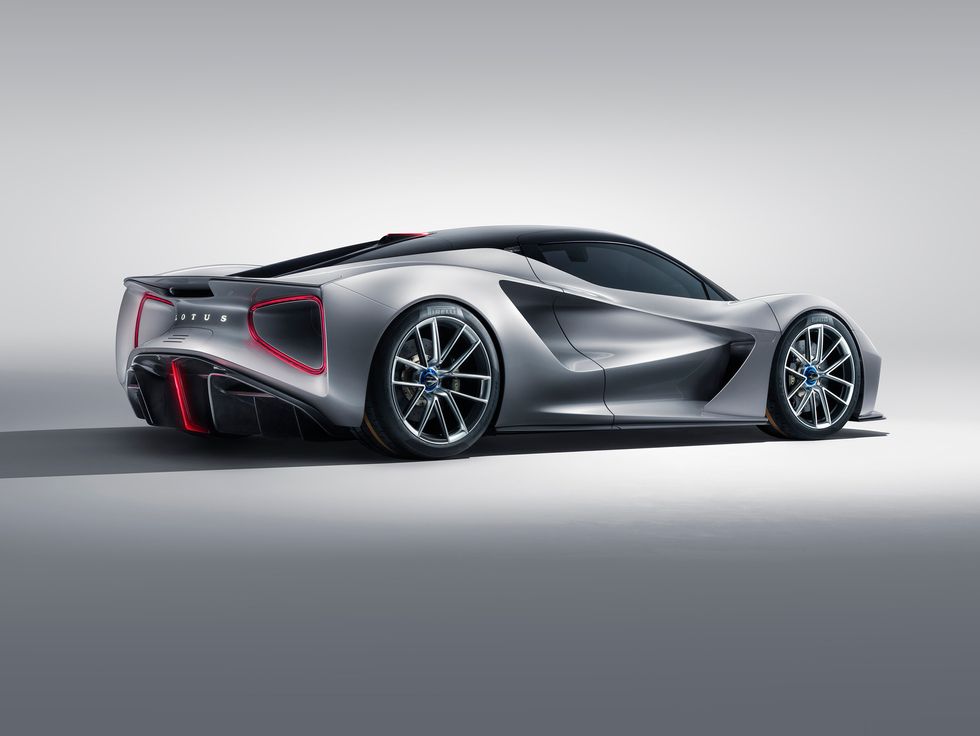 Photo courtesy of Lotus
Horsepower: 1973
Lotus Cars established its retail reputation building lightweight, high-performance sports cars equally at home on both track and street. In that vein, Lotus has taken the wraps off its all-new flagship sports car — the Evija, pronounced ih-VIE-uh. Not only is Evija the first hypercar from Lotus, it's also the brand's first fully-electric vehicle. One look at this new Evija and it's clear the car is something special. The first Lotus built on a full carbon fiber chassis, the Evija sits low and wide with a sleek silhouette that introduces a new design language for the marque. Deeply sculpted from all angles, the Evija seems to have air ducts flowing through all parts of the body. The rear view is unique with large Venturi tunnel outlets surrounded by LED ribbon-style brake lights.
Aside from the standout design, the Evija sets itself apart from other hypercars with a fully-electric powertrain. Four Electrical Drive Units consist of an ultralight, single-speed, helical gear ground planetary gearbox tied to a high-power electric motor. Mounted at each wheel, these units have a power target of around 500 horses each — giving the Evija an estimated 1973 horsepower and 1254 pound-feet of torque. With each motor able to be operated independently, the Evija has full-time all-wheel drive as well as torque vectoring, which should provide exceptional handling and agility. The Evija's acceleration should be quite dramatic — the jump to 62 mph will take less than 3 seconds with a top speed in excess of 200 mph. Perhaps even more impressive, Lotus predicts the Evija will accelerate from 62 mph to 124 mph in less than 3 seconds, and 124 to 186 in another 4 seconds.
Lotus plans to create, a mere 130 copies of the Evija, and production is expected to begin later in 2021 at a price of £1.7 million (approx. USD$2 million) each.
​McLaren Speedtail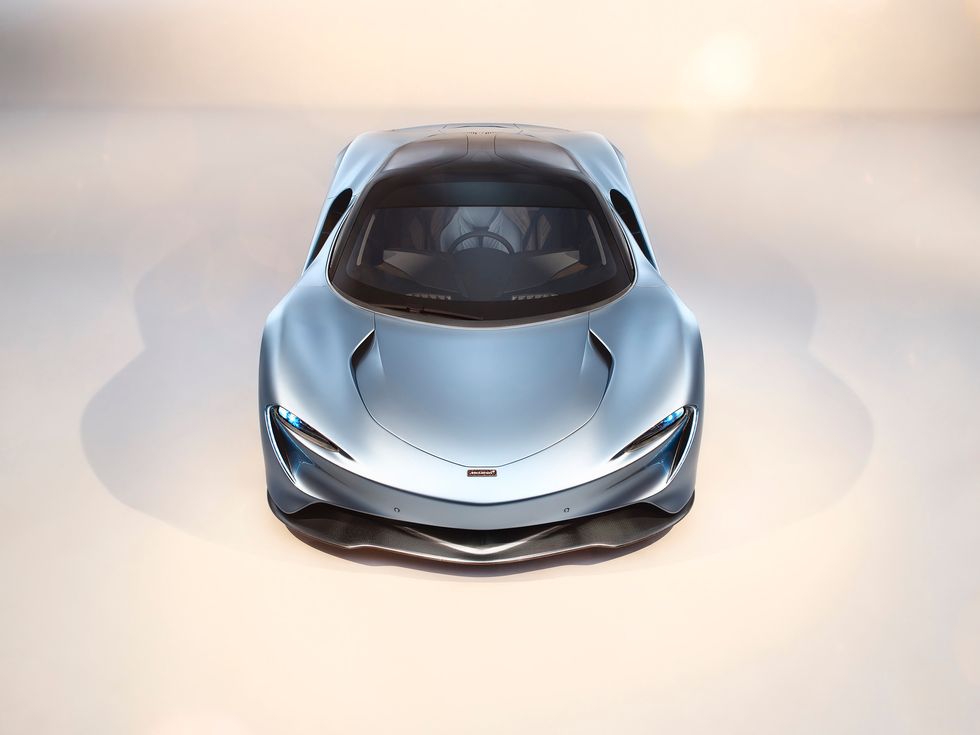 Photo courtesy of McLaren
Horsepower: 1055
Many would argue that the McLaren F1 is one of the most significant sports cars ever built, breaking a 10-year-old record in 1998 to become the world's fastest production car by clocking a maximum speed of 240.14 mph. The British carmaker subsequently created some thrilling sports cars, but nothing could really be considered a proper successor to that iconic F1 until now: enter the McLaren Speedtail. Referred to as a "Hyper-GT," the Speedtail will be the fastest production McLaren ever, with an expected top speed of 250 mph. The Speedtail is constructed around a carbon-fiber McLaren Monocage and makes extensive use of lightweight materials throughout. This includes a body made entirely from carbon fiber, aluminum active suspension and carbon-ceramic brakes — all contributing to a low vehicle weight of 3,153 pounds.
The Speedtail uses a gas-electric hybrid system that generates a total of 1055 horsepower and a massive 848 lb-ft of torque. With that much power on tap, the Speedtail can reach 186 mph in less than 13 seconds. In homage to the iconic F1, the new Speedtail possesses some striking similarities. Only 106 F1s were built, so McLaren will be limiting the production of the Speedtail to the same 106 models — all of which have been reserved. Most noticeable is the seating — when it debuted the F1 was pioneering in many ways, but it stood out for having the driver sitting in the center of the cockpit, flanked by two passenger seats set farther back. This same seat configuration has been carried over to the new Speedtail.
The McLaren Speedtail will have a starting price of £1.75 million (US$2.25 million).
Zenvo TSR-S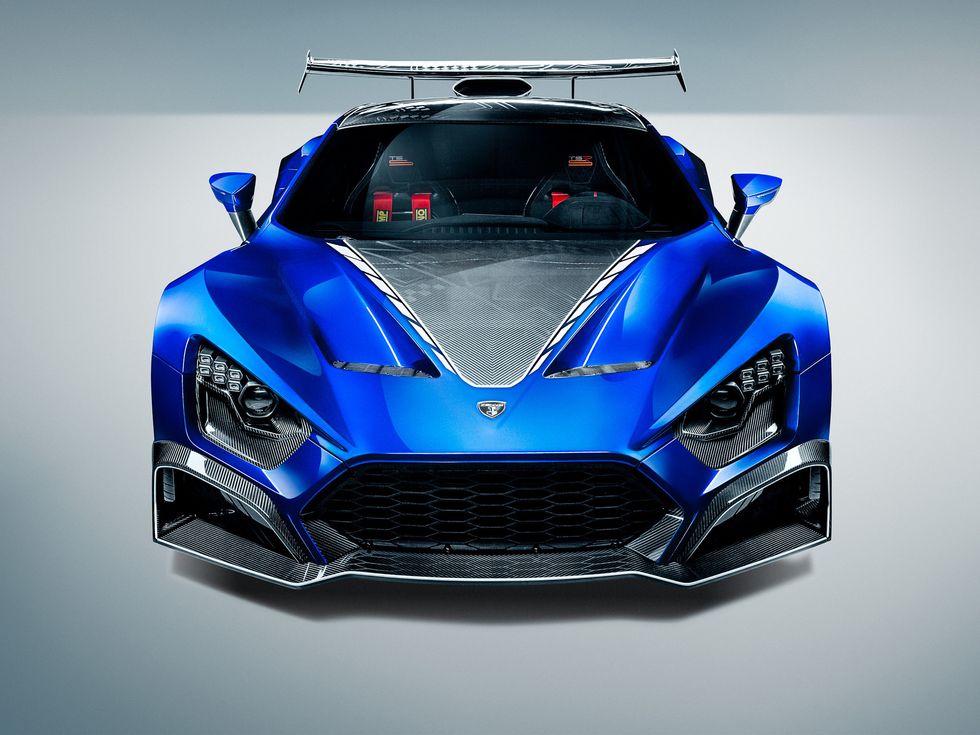 Photo courtesy of Zenvo
Horsepower: 1177
If exclusivity and extreme performance are required, the Zenvo TSR-S may be the perfect solution. This Danish car company plans to build only five of these high-performance cars annually, so the odds of seeing another (or even one) on the road are rather slim. "Like all our cars, the Zenvo TSR-S is 100 percent Danish-designed and hand-built in an extremely limited number," said Zenvo Marketing Director Peter van Rooy. "Each car is fully customizable and built to order, tailored to the precise specifications of the discerning client," van Rooy noted.
This sleek exotic is powered by a twin-supercharged 5.8-liter V8 engine that produces 1177 horsepower and 811 lb-ft of torque. The run to 62 mph comes up in 2.8 seconds, and twice that speed in 6.8 seconds. One of the craziest features on the TSR-S is the Zentripetal Wing. This rear spoiler has two rotational axes that allow it to act as an air brake or cornering stabilizer. When the TSR-S corners, the wing rotates relative to the car's longitudinal axis. This theoretically generates an inward force together with conventional downforce, boosting inner tire grip and cornering stability.
Bugatti Chiron Pur Sport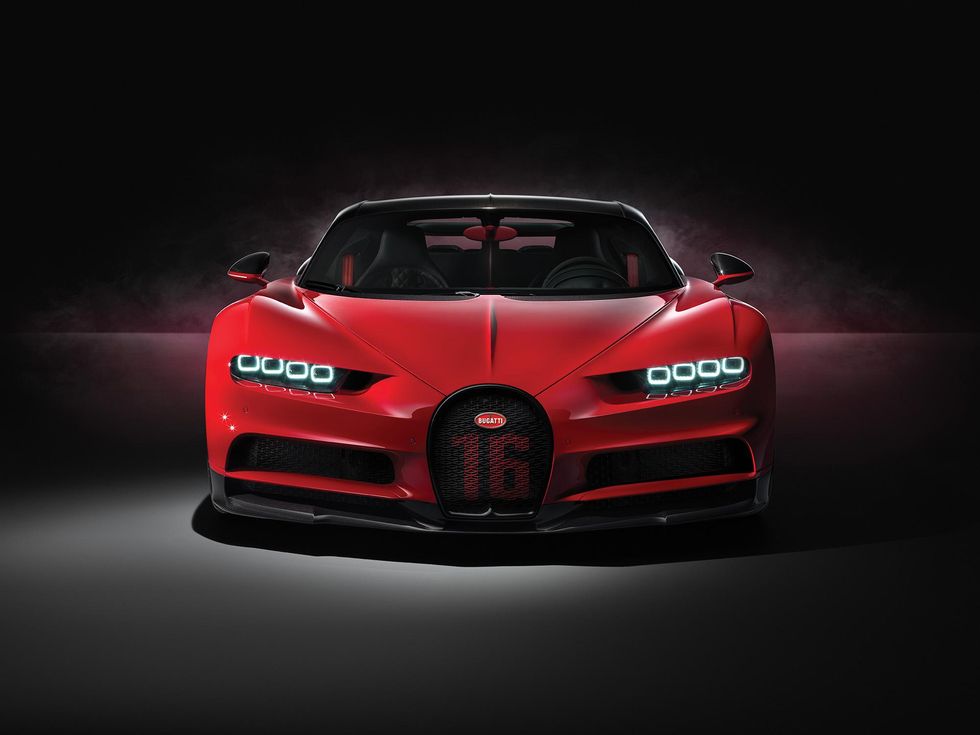 Photo courtesy of Bugatti
Horsepower: 1500
The Bugatti Chiron is already one of the most extreme sports cars available, yet the company offers a Chiron designed to excel in more spirited driving conditions where lateral acceleration takes priority. The Pur Sport stands out thanks to wider air inlets up front, as well as a larger horseshoe opening designed to provide better airflow at lower speeds. The front splitter protrudes from beneath the front of the car to generate maximum downforce, while louvers at the front fenders allow airflow to eliminate lift. With darker colors on the lower panels, the Pur Sport looks wider and more aggressive than "standard" Chirons.
The Bugatti Chiron Pur Sport draws power from the standard 1500-horsepower W16 engine; however, engineers increased the redline threshold by 200 rpm to 6900. Power gets sent to all four wheels via a new 7-speed automatic transmission that has 15 percent closer gear ratios. The result of these changes? The engine stays in the optimal power band longer to provide more power at higher speeds. Combined with the car's improved handling from other tweaks, the Pur Sport's corner entry and exit speeds are much quicker. The Pur Sport reaches 62 mph in a mere 2.3 seconds, 124 mph in 5.9 seconds and 186 mph in 12.4 seconds — all quicker than the standard Chiron.
Bugatti Chiron Sport Sport 300+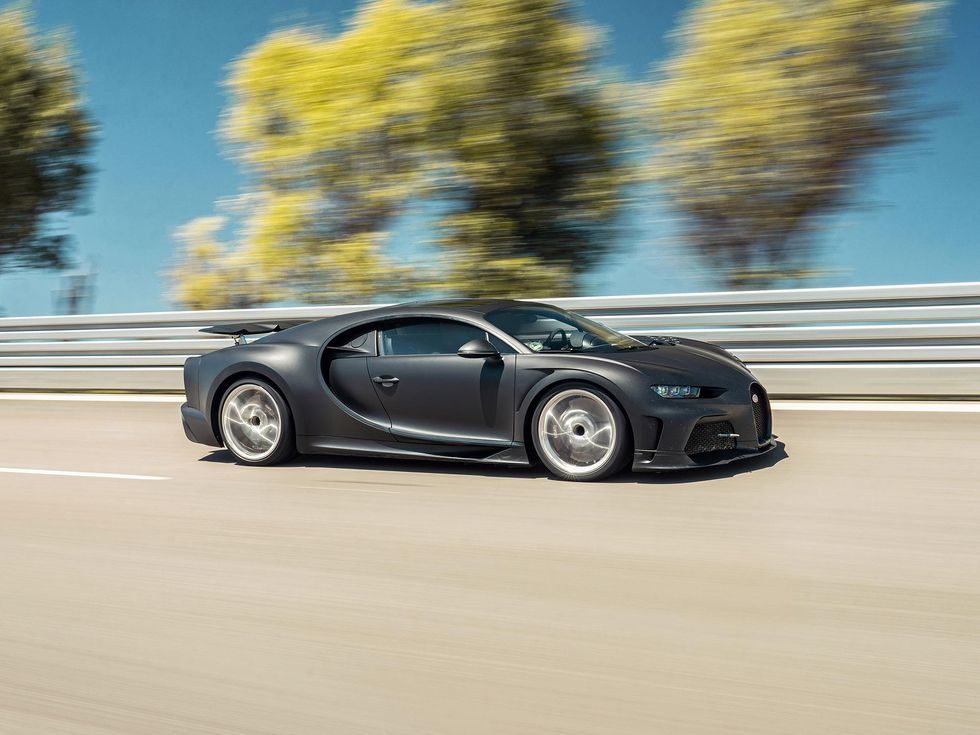 Photo courtesy of Bugatti
Horsepower: 1600
In the fall of 2020 Bugatti took a specially configured Chiron to the enormous Volkswagen Group test track at Ehra-Lessien in Lower Saxony, Germany, with the goal of breaking the magical 300 mph barrier. (The Volkswagen Group owns Bugatti.) With Bugatti test driver and 24 Hours of Le Mans winner Andy Wallace at the helm, the Chiron recorded a top speed of 304.773 mph (490.484 km/h), making it the fastest production car in the world and the first to break 300 mph. To commemorate this outstanding land speed achievement, Bugatti is building a limited number of Chiron Super Sport 300+ variants fashioned after the record-breaking car. The Super Sport 300+ will feature all of the go-fast design changes found on the original 300+ mph car.
Besides functional and stylistic changes, the Super Sport 300+ receives a slight bump in power. The W16 engine produces a prodigious 1600 horsepower — 100 more than the standard Chiron. Citing safety as a major concern, Bugatti engineers are limiting the top speed of the Super Sport 300+ to slightly less than the car's namesake speed — a mere 273 mph. The standard Chiron is limited to 261 mph, so the Super Sport 300+ is still the fastest Chiron available. Given these astronomical speeds, there are few roads throughout the world on which such figures could be achieved — perhaps that doesn't really matter.
Bugatti will build 30 copies of this limited-edition Chiron Super Sport 300+ with the price set at €3.5 million (US$4.1 million). Deliveries are expected to take place in the middle of 2021.
Czinger 21C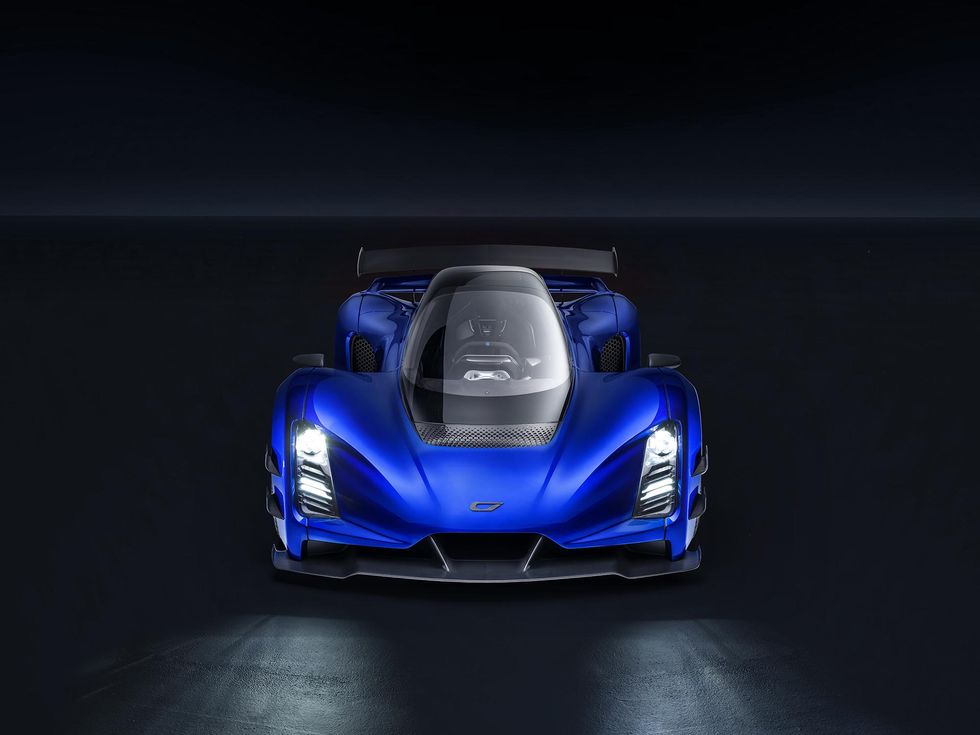 Photo courtesy of Czinger
Horsepower: 1250
An all-new company based in Los Angeles, Czinger has introduced its first model and it is getting plenty of attention — for good reason. The 21C is a hybrid hypercar with standout exterior styling and a unique interior. There is seating or two, but the passenger sits behind the drive so both are in the center of the vehicle — jetfighter style, as the company points out. This not only keeps weight in the center of the car, it also provides the best driving position. Czinger uses an innovative approach to weight savings and production by integrating the cooling, fluid routing and exhaust sound management directly into the chassis structure. The result is a vehicle that weighs less than 2,700 pounds.
Powering the Czinger 21C is an in-house 2.88-liter twin-turbo V8 engine that redlines at 11000 rpm, teamed with two high-output electric motors for a total of 1250 horsepower. The electric motors power each front wheel individually, creating an all-wheel-drive system with torque vectoring. Power gets sent through an ultralight 7-speed sequential gearbox. Performance figures are astounding: 62 mph in 1.9 seconds, and in 15 seconds the 21C is passing 186 mph. In less than 30 seconds the 21C is at 248 mph.
Czinger plans to build 80 copies of this supercar.
Koenigsegg Gemera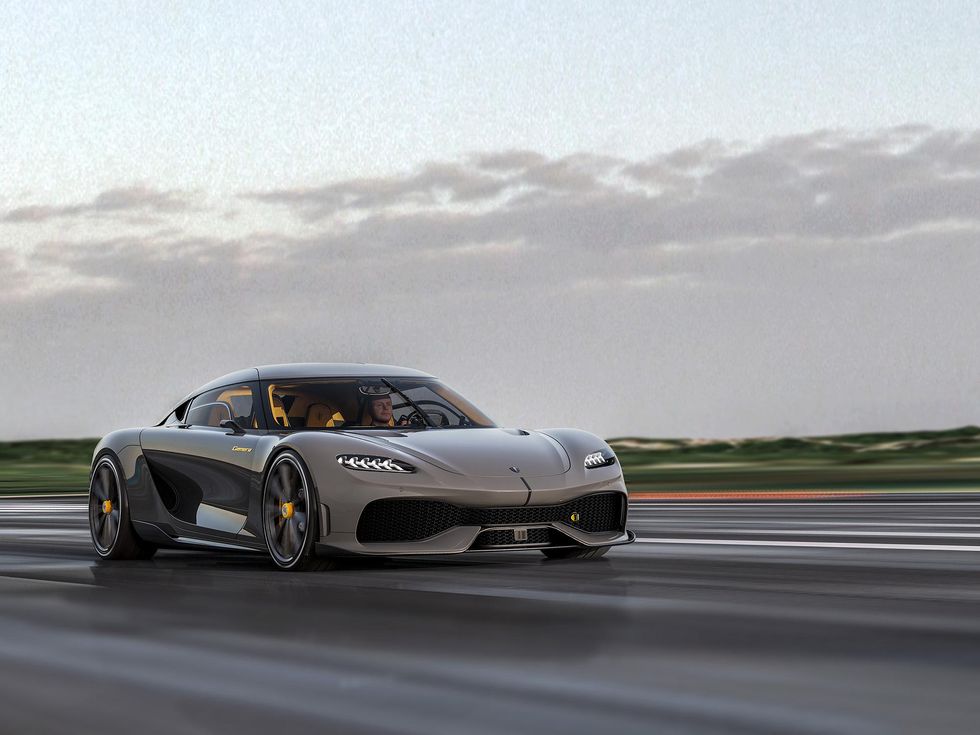 Photo courtesy of Koenigsegg
Horsepower: 1700
Swedish automaker Koenigsegg is well known for building extreme sports cars, but the company may have redefined the high-performance family car. The all-new Gemera is the brand's first four-seater, referred to as a "Mega-GT." This sexy sports car offers room for four adults and some luggage space, as well as a luxurious cabin outfitted with features such as heated and cooled cupholders, front and rear seat infotainment displays, a Wi-Fi hotspot, memory foam heated seats, exterior and interior cameras and an 11-speaker high-end audio system.
Those passengers better hold tight to their beverages, since the Gemera lives up to the Koenigsegg reputation. Power comes from a 2.0-liter 3-cylinder twin-turbo Freevalve engine (nicknamed The Friendly Giant) that produces 600 horsepower, teamed with three electric motors — one for each rear wheel and one on the crankshaft. Total output is 1700 horsepower, which will move the Gemera to 62 mph in less than 2 seconds with a top speed expected to approach 250 mph. Koenigsegg says that the Gemera can reach 186 mph in electric-mode only, and it has a range of about 31 electric-only miles.
Only 300 of these unique vehicles are expected to be produced.
Lucid Motors Air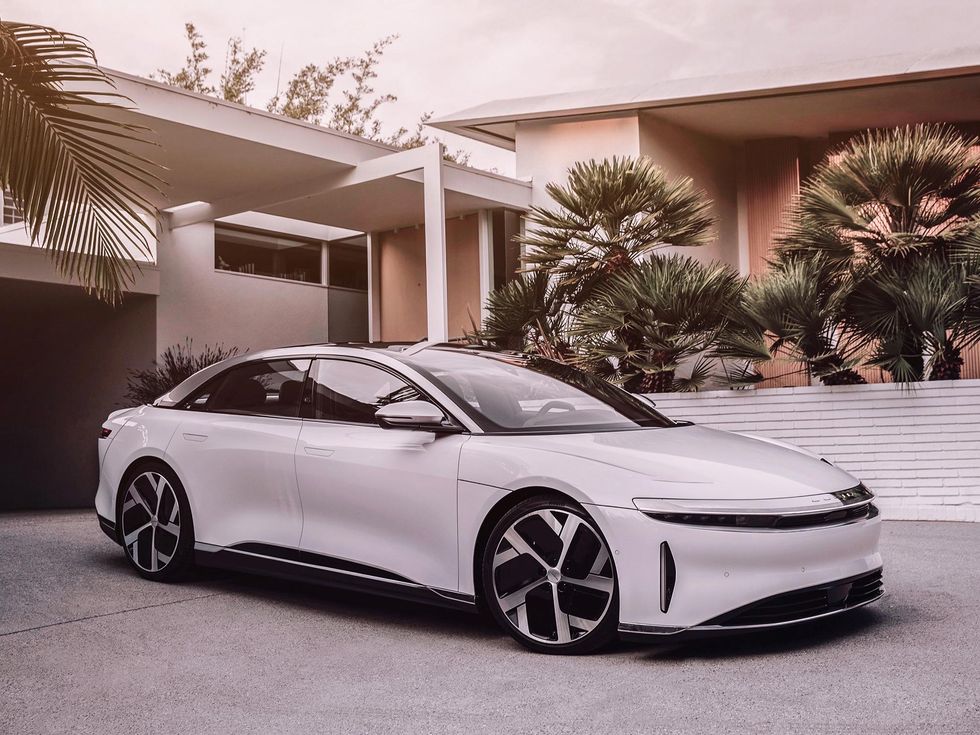 Photo courtesy of Lucid Motors
Horsepower: 1080
In the past few years, several new companies have popped up spouting promises to create powerfully efficient electric vehicles, and most have done nothing more than reveal a few prototypes. The exception to this rule seems to be Lucid Motors. Recently the California-based company took the wraps off its first production model. The Lucid Motors Air has the looks to match its advanced powertrain, with clean styling up front emphasized by slim headlights and a chrome strip that spans from one corner to the other. The hood features sculpting over the wheels to further emphasize power, and the windshield flows as one piece of glass all the way back to the C-pillar.
The Lucid Motors Air will be available in a number of variants, the most powerful featuring 1080 horsepower in dual-motor all-wheel-drive configuration. Acceleration to 60 mph takes 2.5 seconds. Lucid Motors says the new Air has the capability to eclipse a quarter mile in less than 10 seconds at 144 mph — fast, especially for a 5-passenger sedan. Driving range is expected to be as high as 517 miles depending on the vehicle's configuration. Engineers at Lucid Motors developed the Air's electric drivetrain in-house, and it boasts some impressive stats. Each ultra-efficient permanent magnet electric motor is integrated with an inverter, transmission and differential to create a 900V-plus drive unit that weighs a mere 161 pounds. According to Lucid, the unit could fit in a standard suitcase.
The new Lucid Air is expected to begin deliveries later this year.
SSC Tuatara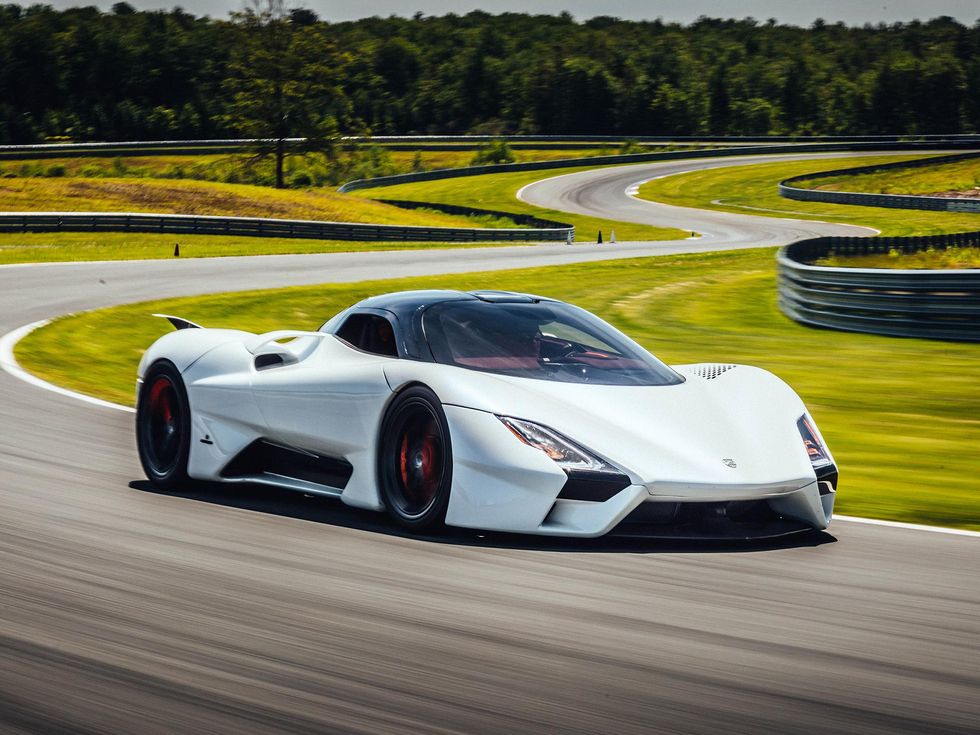 Photo courtesy of SSC North America
Horsepower: 1750
One of the few American-made cars on this list, the Tuatara comes from SSC North America, a small company located in Richland, Washington. The company may has not produced many cars to date, but the Tuatara has some big shoes to fill — its predecessor is the Ultimate Aero, which in September of 2007 became the world's fastest production car at 256.14 mph. Designed to exceed the Ultimate Aero's performance, the Tuatara makes extensive use of carbon fiber — the body, frame and monocoque are all constructed from this lightweight yet strong material. At the touch of a button, dihedral doors open to reveal a cockpit designed for both comfort and the driving experience.
The mid-engine Tuatara has a twin-turbo 5.9-liter V8 engine that produces 1750 horsepower and a massive 1280 pound-feet of torque. Power gets sent to the rear wheels via a CIMA 7-speed automatic gearbox, capable of shifts in less than 100 milliseconds. In addition to its astounding power, the Tuatara has an extremely low .279 drag coefficient. With active aerodynamics the Tuatara can maintain a 37:63 front to rear balance from 90 mph to beyond 300 mph. Performance stats have not been released, although it's safe to anticipate that the Tuatara should easily reach 60 mph in less than 3 seconds; the company's goal with the Tuatara is to attain a top speed in excess of 300 mph.
SSC plans to build a total of 100 Tuataras with a starting price around $1.6 million.
Tesla Model S Plaid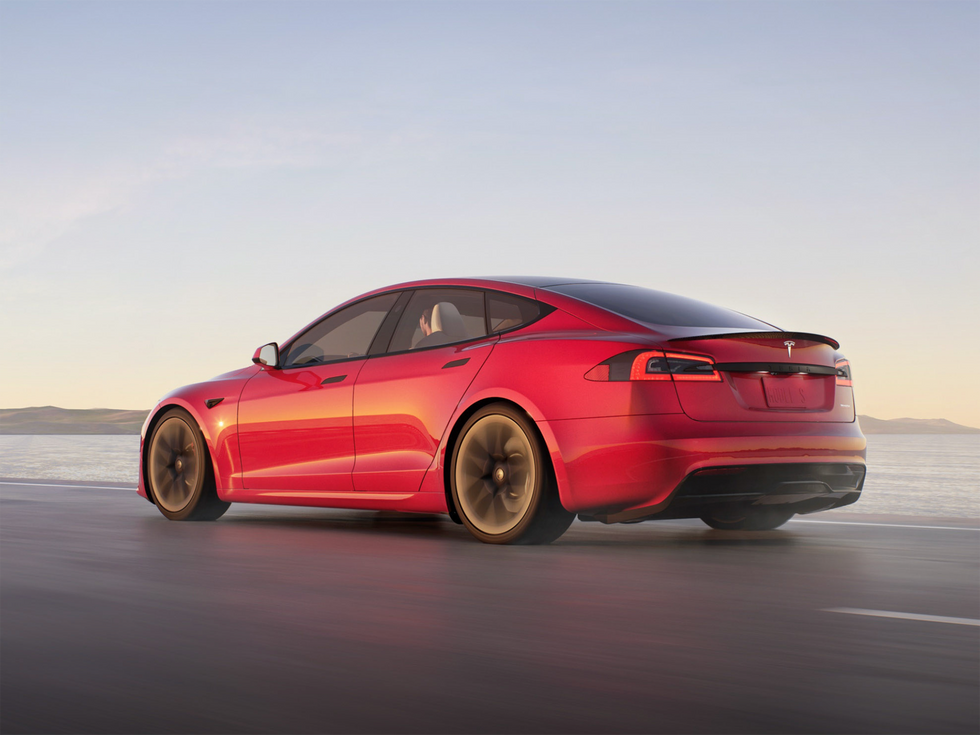 Photo courtesy of Tesla
Horsepower: 1020
Tesla is the latest company to join the 1000-Horsepower Club with the all-new Model S Plaid. Another example of extreme performance from an electric car, the Model S stands out as one of the most powerful American luxury cars on the road. Besides the added power, the Model S gets an updated interior that features a 17-inch high-resolution center display as well as a unique yoke-like steering wheel. With an additional display screen for rear-seat passengers, the Model S even offers in-car gaming with wireless controllers.
The new Model S Plaid is equipped with three high-performance electric motors featuring carbon-sleeved rotors to produce 1020 horsepower or — 1100 horses for those who upgrade to the Plaid + variant. This all-wheel-drive luxury sedan boasts eye-watering acceleration with a sprint to 60 mph taking less than 2 seconds. Given enough road (or track), both Plaid and Plaid+ are expected to top 200 mph. Even more impressive, Tesla claims the Plaid+ will have a range of more than 520 miles on a single charge.
The high-powered Model S Plaid is expected to arrive this fall, while deliveries of the Plaid+ will start mid 2022 with a purchase price around $150,000.