What does an SUV's level of capability mean to you? Does it mean more towing, hauling, or people carrying? How about its off-road prowess and its ability to get you home when the weather turns nasty? For most of us, the answer probably lies somewhere in the middle of those two things. Many buy SUVs for their ability to carry larger loads, but there's an occasional need to get dirty in the woods.
That's where our list comes in. We've rounded up 15 of the most capable SUVs on the market today. We grabbed some for their all-out off-road capabilities, but others were chosen because they can get you home no matter the weather. Yet others were added because of their ability to carry people and tow heavy trailers. Here's our list of the most capable SUVs of 2021, in no particular order.
Land Rover Defender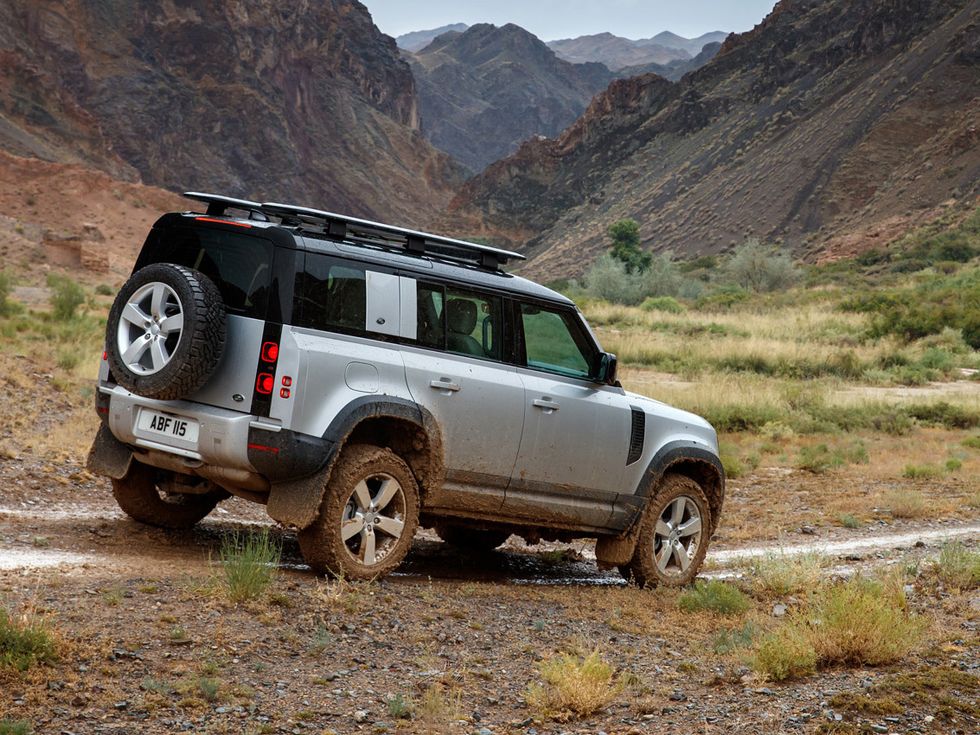 Photo courtesy of Land Rover
Make no mistake, Land Rover is a luxury brand, but many of the automaker's vehicles are legitimately capable when the pavement ends. The Defender returned in 2020 after a two-decade hiatus, armed with several selectable off-road driving modes, a surprisingly plush interior, and two ultra-capable engines. The turbocharged four-cylinder engine produces 296 horsepower and 295 pound-feet of torque and the mild hybrid-equipped 3.0-liter inline-six makes 395 horsepower and 406 pound-feet of torque. Towing numbers are strong too, as the Defender can trailer up to 8,201 pounds in certain configurations.
Ford Expedition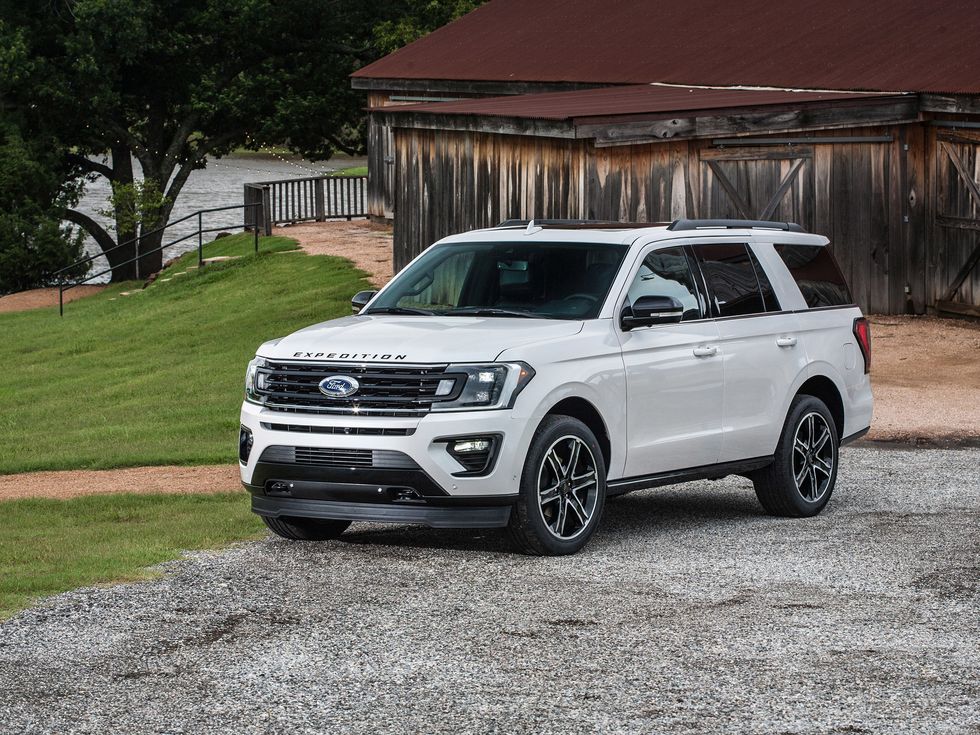 Photo courtesy of Ford Motor Company
The Ford Expedition is big in all the right places and has the tech, comfort equipment, and driving dynamics to be a supremely useful people-hauler. The turbocharged 3.5-liter engine produces 400 horsepower and 480 pound-feet of torque, and available four-wheel drive makes the Expedition a real beast in bad weather. The Expedition can tow up to 6,000 pounds.
Chevrolet Suburban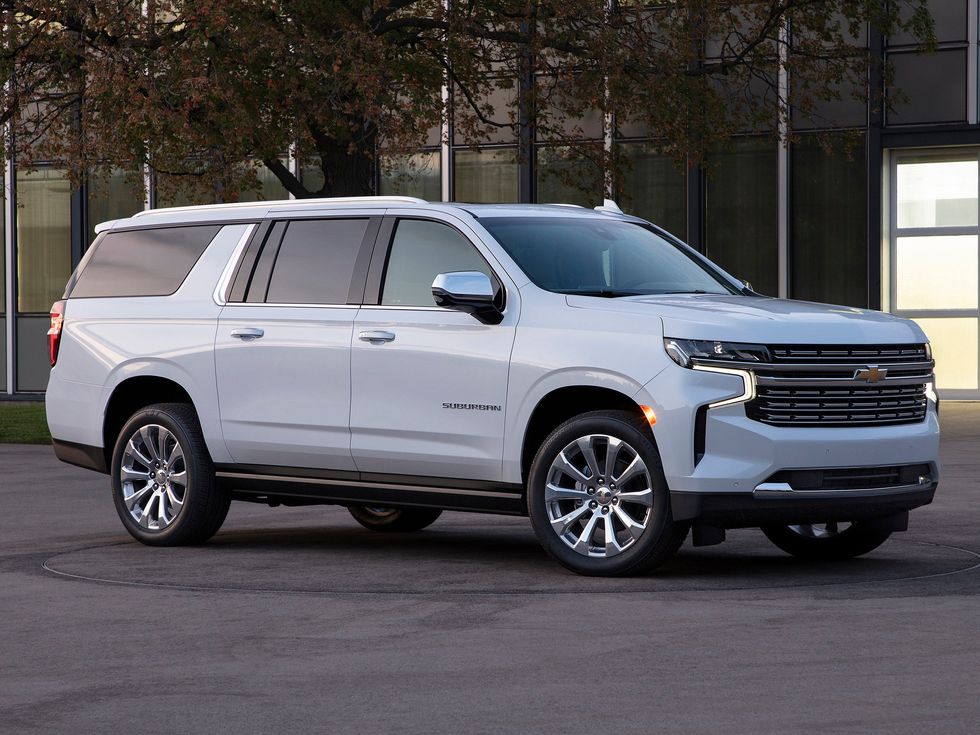 Photo courtesy of Chevrolet
The Suburban is one of the longest running nameplates in the automotive business, and for good reason. Chevy keeps making the big SUV better every year, and the newest 2021 model is a marvel of luxury, tech, and capability. With available four-wheel drive and three powerful engine choices, the Suburban can tackle harsh terrain and bad weather with the best of them. The base engine alone is a 355-horsepower 5.3-liter V8, and on top of that there's a 420-horsepower 6.2-liter V8 and a 277-horsepower 3.0-liter diesel. With body-on-frame construction and powerful V8 engines, the Suburban can tow up to 7,800 pounds.
Ford Bronco Sport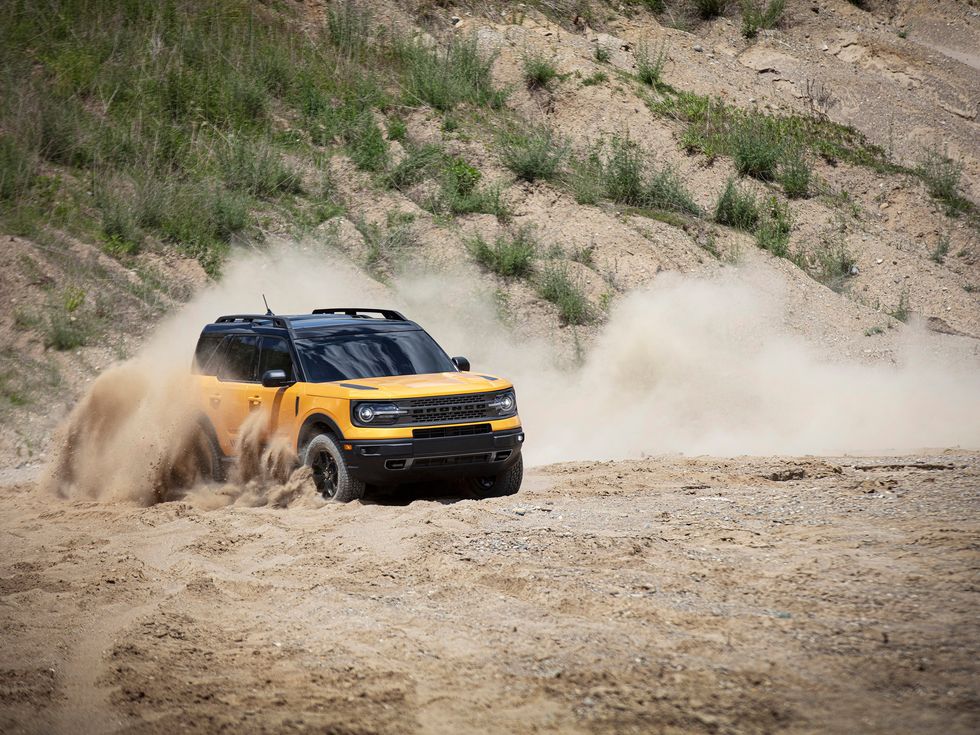 Photo courtesy of Ford Motor Company
It's tempting to consider the Bronco Sport the "baby" Bronco, but that's not an accurate description. While it's true that the Bronco Sport is smaller and less capable than its Bronco counterpart, the Sport has some real terrain-conquering tricks up its sleeve. Two engine choices are on offer, which include a turbocharged 1.5-liter three-cylinder that makes 181 horsepower and a 245-horsepower turbocharged 2.0-liter four-cylinder. On top of that, the Bronco Sport brings selectable terrain modes and standard all-wheel drive. The Bronco Sport shows its size most openly with its towing stats, which land at up to 2,205 pounds.
Jeep Grand Cherokee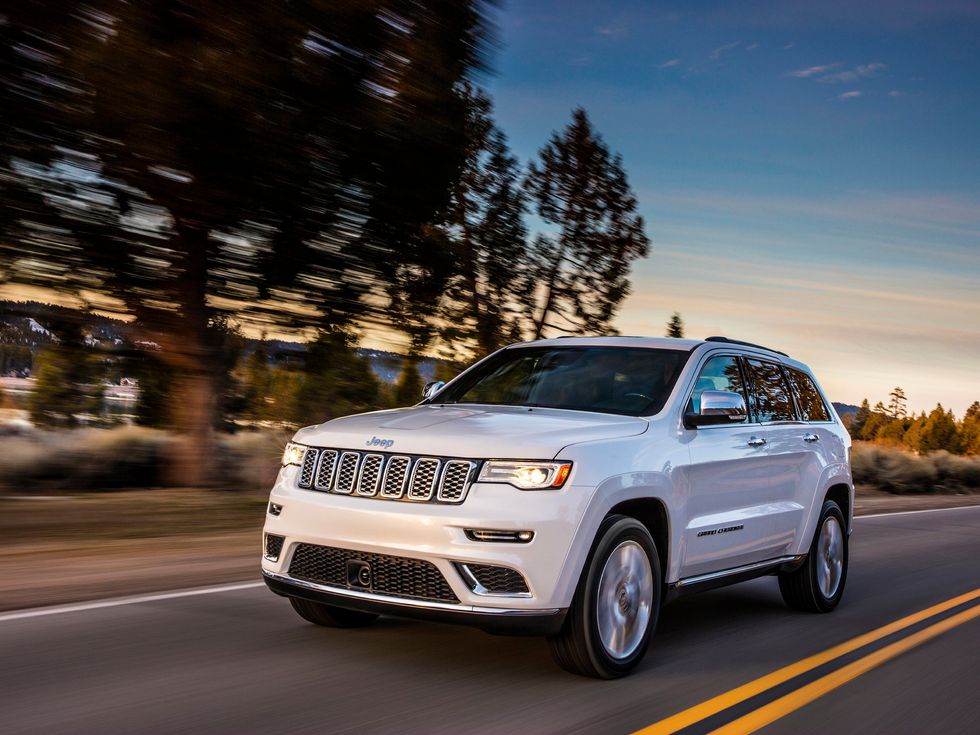 Photo courtesy of FCA US LLC
You can have your Grand Cherokee in several different flavors, from basic to luxurious to rugged. The Trailhawk model hits a sweet spot in the lineup, with a mostly reasonable price tag, four-wheel drive, a solid 295-horsepower 3.6-liter V6, and trail-rated off-road capabilities. The Trailhawk can also be upgraded with a 360-horsepower 5.7-liter V8. In some configurations, those engines can help the Grand Cherokee tow up to 7,200 pounds.
Dodge Durango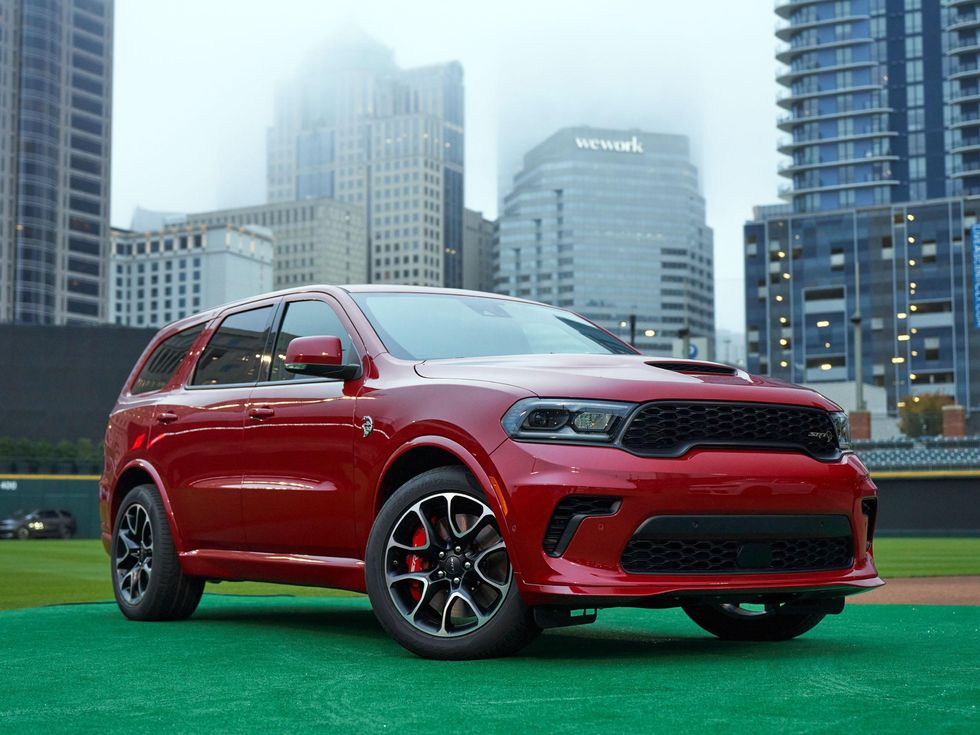 Photo courtesy of FCA US LLC
The Durango isn't an off-road monster, but it can hold its own in towing up to 8,700 pounds and can haul several people in the process. Dodge offers the Durango with four engine choices, from a tame 295-horsepower 3.6-liter V6 to a rowdy 710-horsepower supercharged 6.2-liter V8. No matter how you order it, the Durango can be equipped with four-wheel drive and can carry up to eight people.
Honda Passport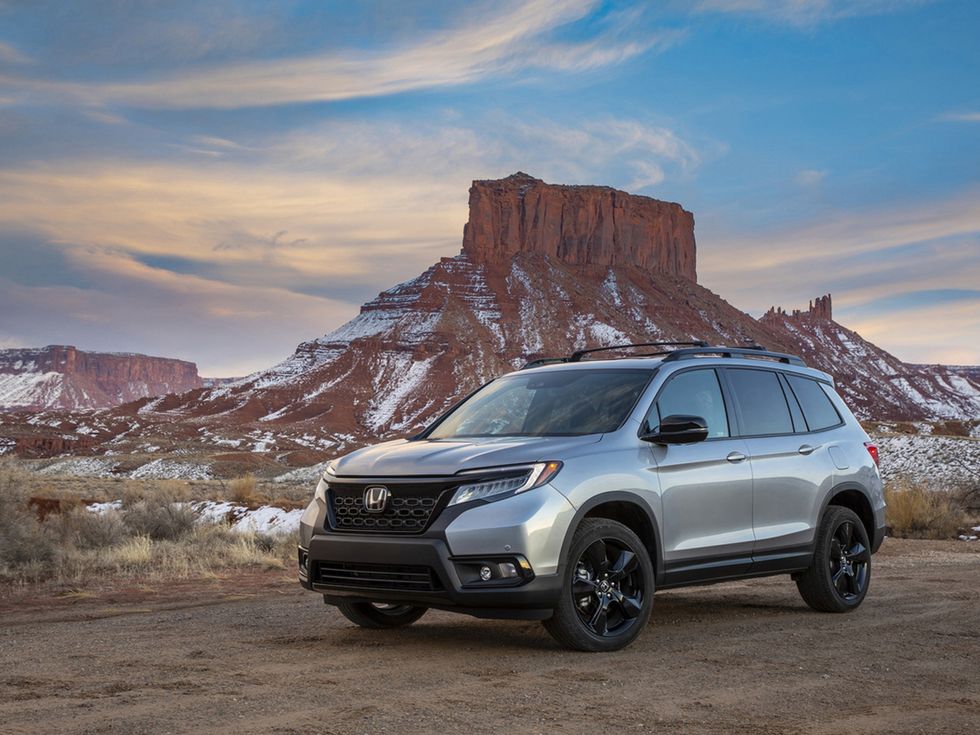 Photo courtesy of American Honda Motor Mfg. Inc.
The Honda Passport takes many of the things that buyers love about the Honda Pilot and applies them to a smaller, more rugged package. The Passport has shorter front and rear overhangs for better off-road driving angles, selectable terrain modes, and a capable 3.5-liter V6 that makes 280 horsepower and 262 pound-feet of torque. Despite its relatively small stature, the Passport can pull up to 5,000 pounds.
Toyota 4Runner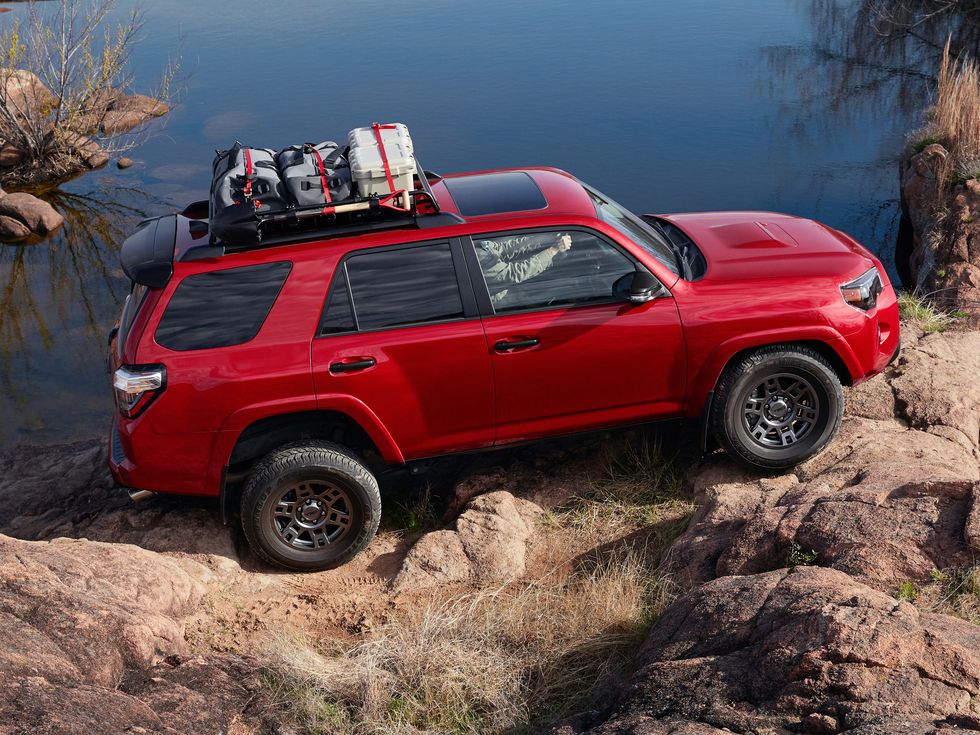 Photo courtesy of Toyota Motor Sales U.S.A. Inc.
It doesn't get much more legendary than Toyota's 4Runner. The SUV is long overdue for a major overhaul, but it's still got the goods to deliver a solid off-road or bad-weather experience. Power comes from a 4.0-liter V6 that makes 270 horsepower and 278 pound-feet of torque. The 4Runner can also be ordered with full TRD off-road regalia, which includes special paint colors, wheels, and rugged gear like skid plates and transfer case guards. Its V6 engine allows the 4Runner to pull up to 5,000 pounds.
Lexus GX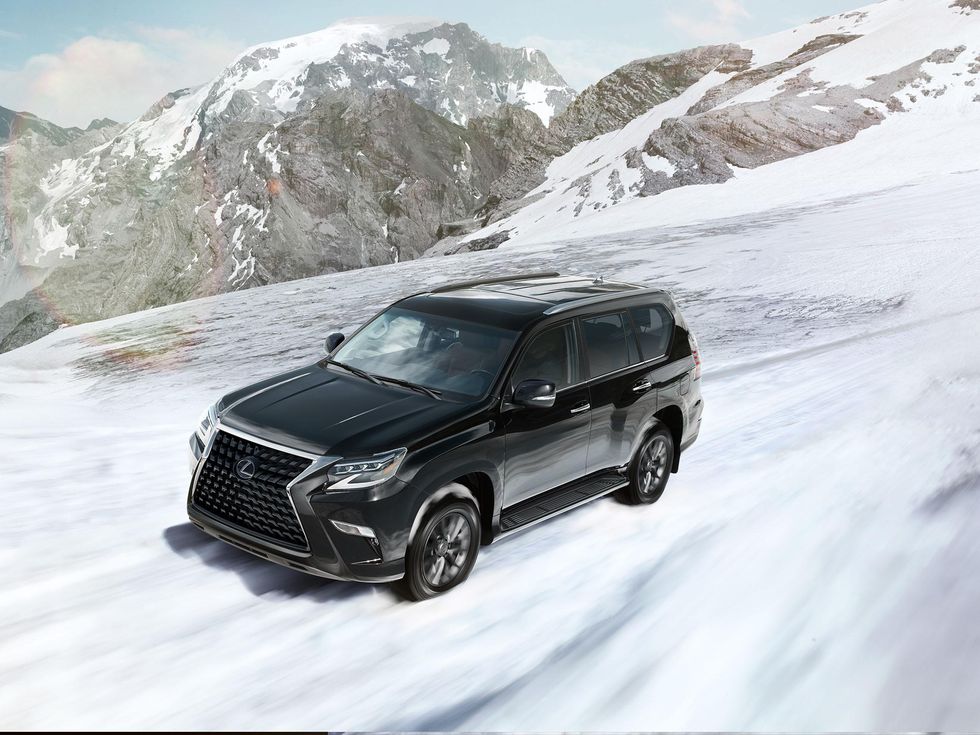 Photo courtesy of Lexus
If you need a side of luxury with your rugged SUV, the Lexus GX brings it, bigtime. The GX is built on the Toyota Land Cruiser Prado platform, which contributes heavily to the Lexus' abilities off-road. Under the hood, there's a 4.6-liter V8 that makes 301 horsepower and 329 pound-feet of torque connected to a six-speed automatic transmission and full-time four-wheel drive. The GX can tow up to 6,500 pounds.
Jeep Wrangler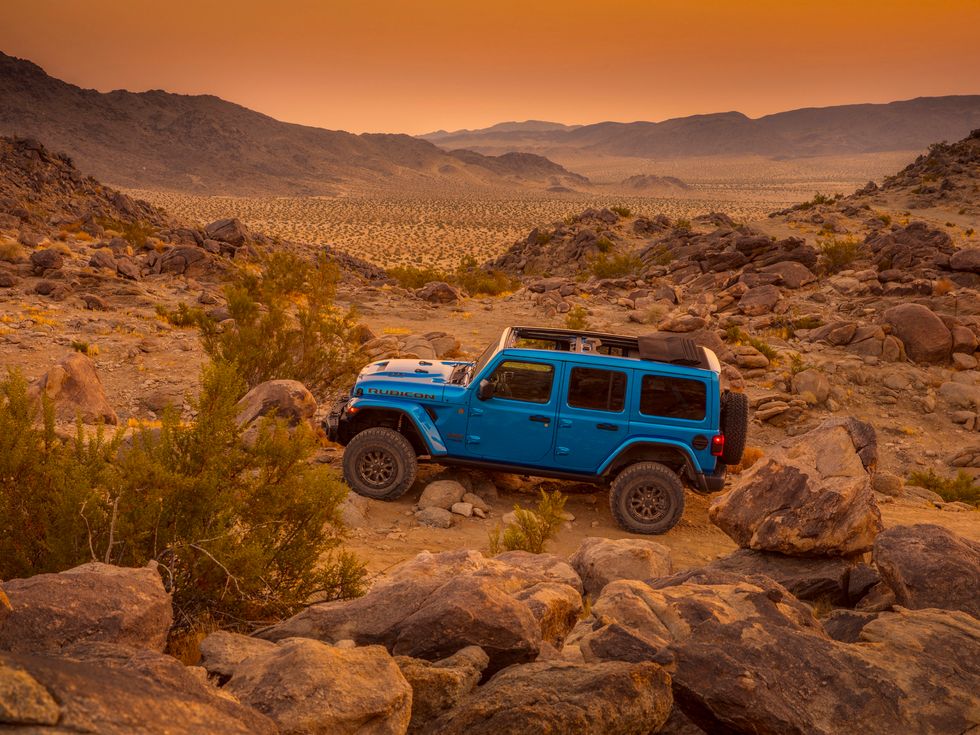 Photo courtesy of FCA US LLC
There's almost nothing about the Jeep Wrangler that doesn't scream rugged capability. The SUV's appearance has barely changed since its inception, and it's only gotten more off-road abilities in recent years. The latest model is available with a plug-in hybrid system or with an ultra-powerful 6.4-liter Hemi that puts down 470 ponies. The Wrangler shouldn't be the first choice as a towing vehicle, however, as it's only capable of pulling up to 3,500 pounds in certain configurations.
Toyota Land Cruiser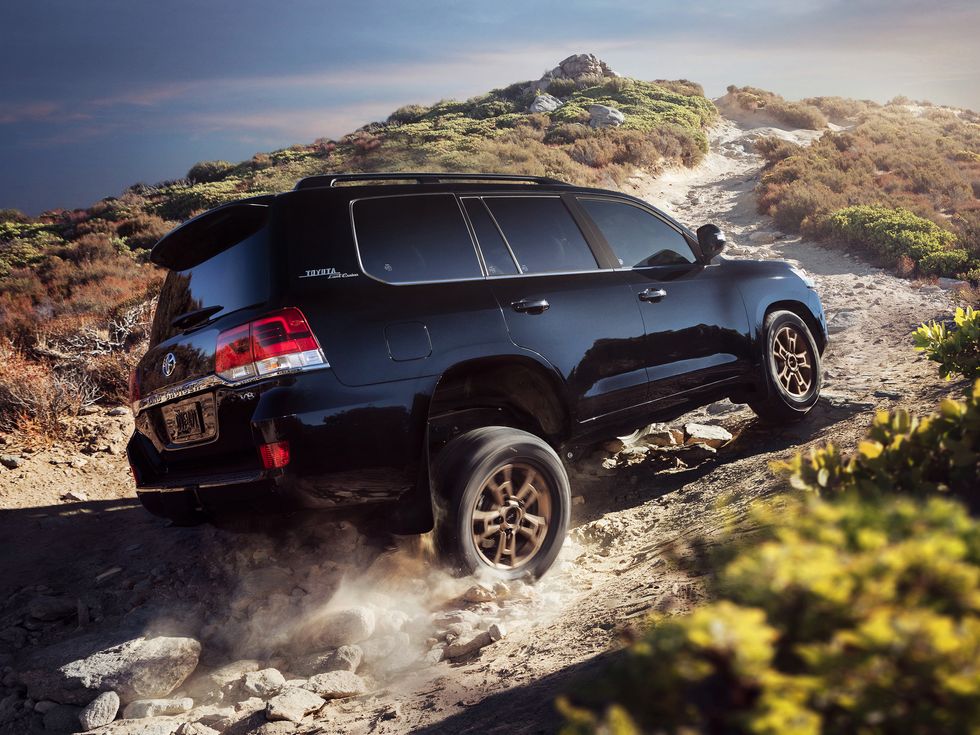 Photo courtesy of Toyota Motor Sales U.S.A. Inc.
As long as you don't mind spending more than $80,000 on a Toyota, the Land Cruiser won't disappoint. It's got a 5.7-liter V8 that produces 381 horsepower to all four-wheels through an eight-speed automatic transmission. That's in addition to almost unstoppable off-road capabilities and a tow rating of up to 8,100 pounds.
Nissan Armada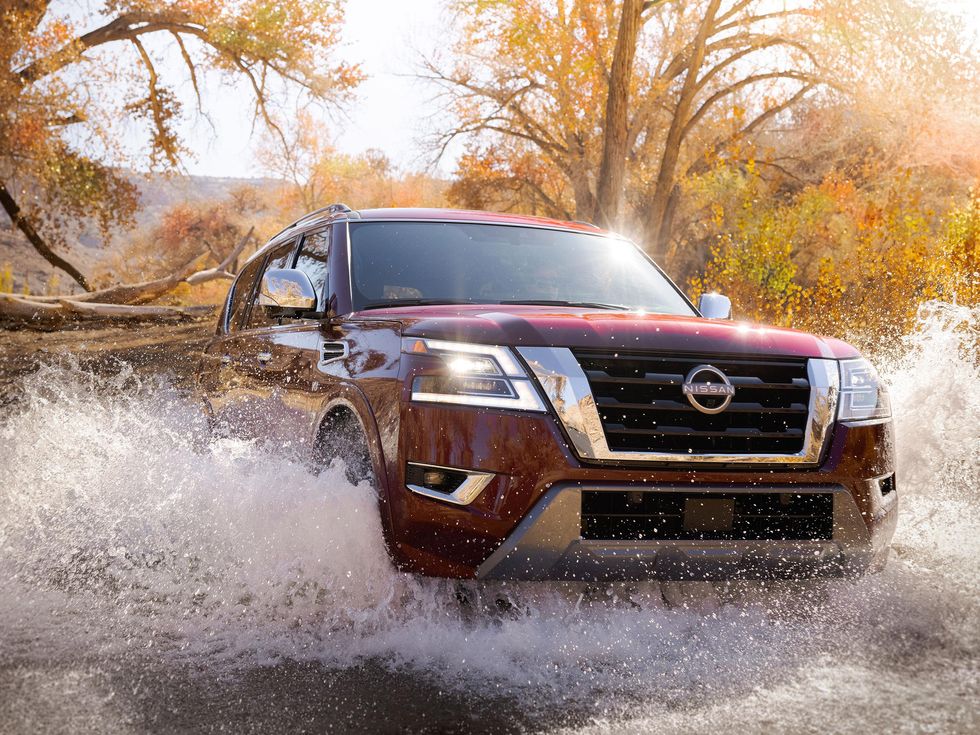 Photo courtesy of Nissan North America
Nissan's big-boy SUV, the Armada, just got a major refresh for the 2021 model year. The truck got ten more horsepower, more torque, and plenty of new tech and comfort features. The 5.6-liter V8 now puts down 400 horsepower and 413 pound-feet of torque. In addition to that, the Armada manages luxury-level ride quality, ultra-capable four-wheel drive, and a towing capacity of 8,500 pounds.
Mercedes-Benz G-Class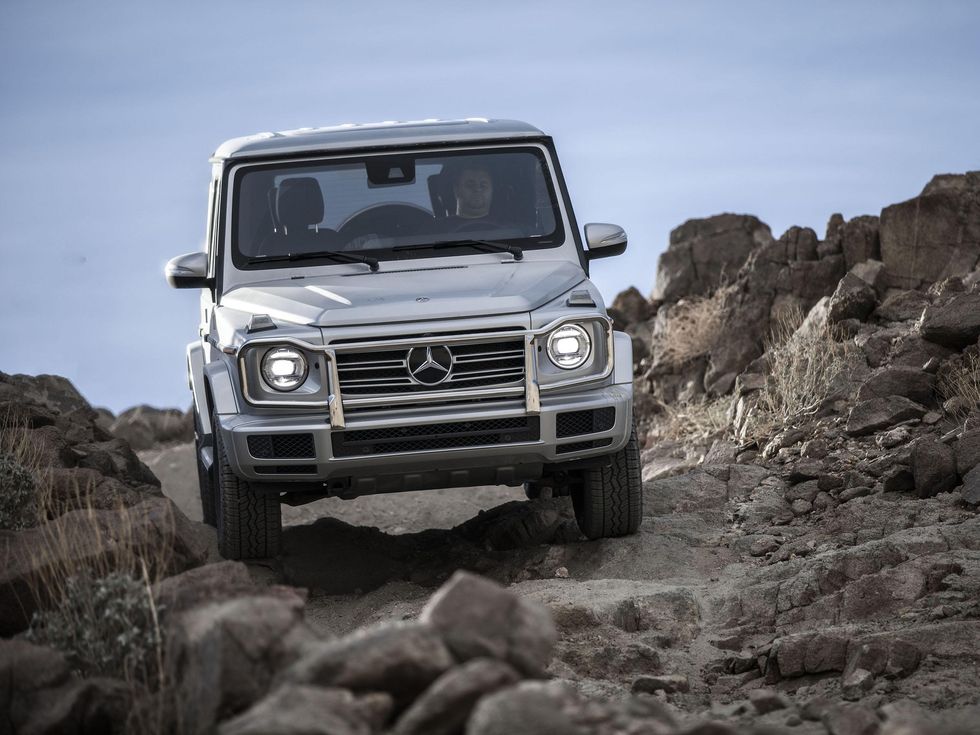 Photo courtesy of Mercedes-Benz
It should be no surprise that one of the most expensive SUVs on the planet is also one of the most capable. The Mercedes-Benz G-Class, also known as the G-Wagen, is a boxy off-road monster that owes its prowess to its origins as a military vehicle. The truck's twin-turbo V8 pumps out 416 horsepower, while the Mercedes-AMG G63 is powered by a 577-horsepower twin-turbo V8. Both models get several off-road-friendly features and the standard G-Wagen can even tow up to 7,000 pounds.
Kia Telluride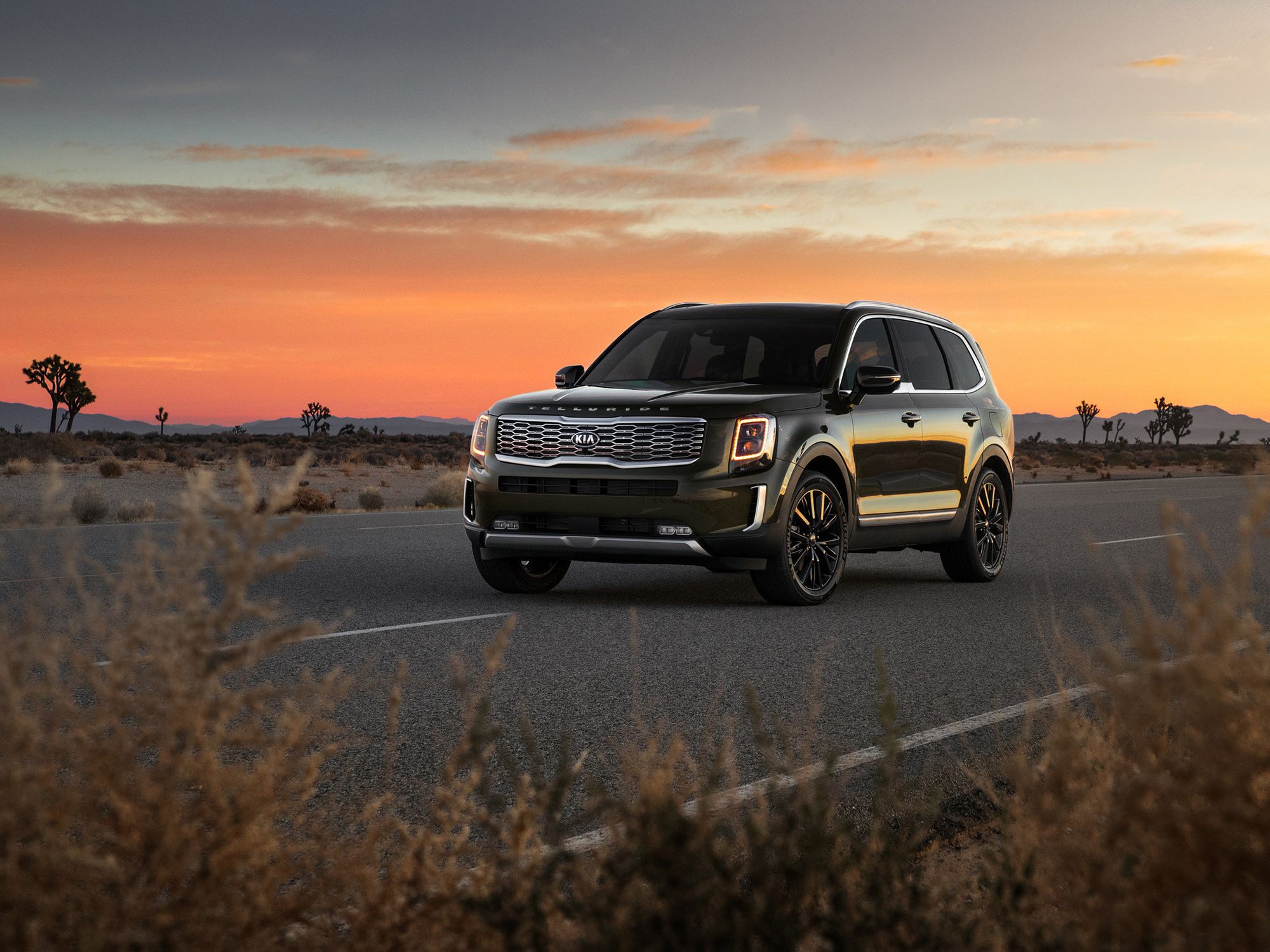 Photo courtesy of Kia Motors
Get past the brand name, and the Telluride is one of the best SUVs on sale today. It sports a 291-horsepower V6, an eight-speed automatic transmission, and eight inches of ground clearance to keep things tidy off-road. The big Kia can also tow up to 5,000 pounds.