The annual Forbes World's Billionaires list ranks and categorizes the richest people on Earth. You can probably name a few in the Top 10: Jeff Bezos, Bill Gates, Mark Zuckerberg, Warren Buffett, and Larry Ellison all make the list.
Sixty-eight of the billionaires have ties to the auto industry. Scroll down to see the top 15 heavy hitters and find out more about their rolls in the sector.
No. 476 – William Bin Li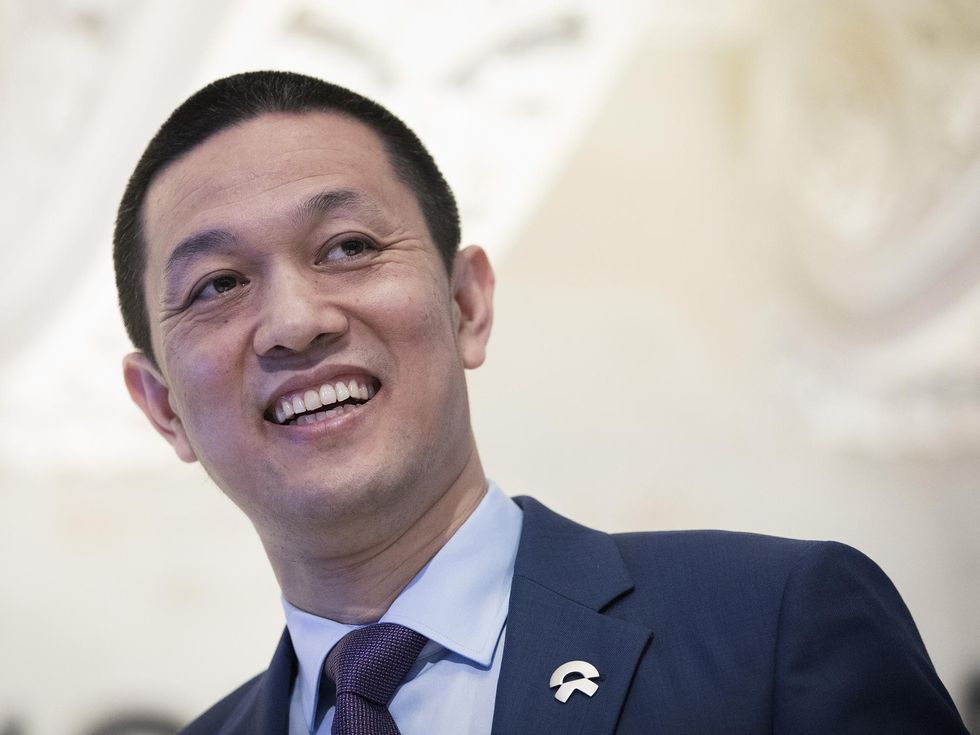 William Bin Lee, chief executive officer and chairman of electric car maker NIO, looks on as he waits for NIO stock to begin trading on the floor of the opening bell at the New York Stock Exchange.
Photo by Drew Angerer/Getty Images
According to his Forbe profile, William Li is known as the "Elon Musk of China". In his lifetime he has co-founded and invested in more than 40 companies in the automotive space.
He is the founder and chairman of Bitauto (NYSE: BITA), a company that has three main areas of business: advertising and subscriptions, transaction services, and digital marketing solutions. Li sold the company in 2013.
The entrepreneur is also known for being the founder and current CEO of luxury electric car manufacturer NIO (NYSE: NIO). In addition to passenger vehicles, NIO is involved with FIA Formula E Championship racing.
His $5.8 billion net worth moves him up quite a bit form his 1,717 position on 2019's Billionaire's list.
No. 476 – Li Ping
You might not know Li Ping's name, but you're probably familiar with the company that he is the vice chairman of – Contemporary Amperex Technology (CATL) – if not by name then by the products that their batteries are in. Either via partnerships or sales, the company has supplied batteries for PSA Groupe (now part of Stellantis), Hyundai, Honda, BMW, Daimler AG, Tesla, Toyota, Volkswagen, Volvo, MINI, Next, BAIC Motor, Geely Automobile, GAC Group, Yutong Bus, Zhongtong Bus, Xiamen King Long, SAIC Motor, and Ford.
Ping's $5.8 billion net worth places him much higher on the Billionaires list than he was in 2019 and 2019 when he placed numbers 1063 and 1605, respectively.
No. 451 – Mong-Koo Chung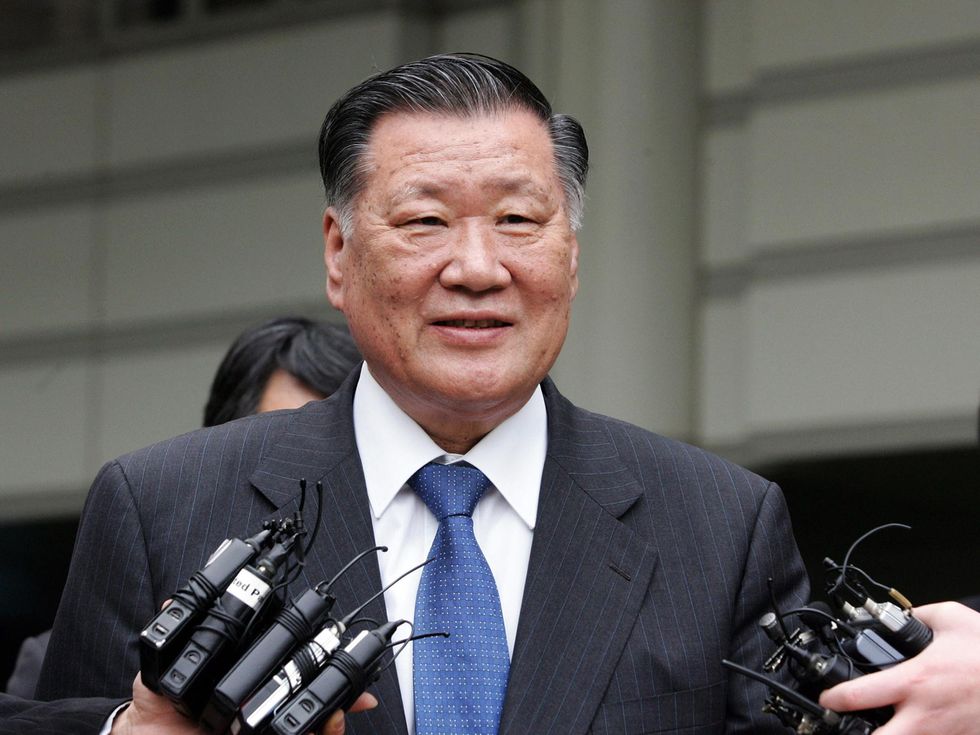 Hyundai Motor Co. Chairman Chung Mong-Koo walks by reporters as he leaves after the first day of his appeals trial at the Seoul Central District Court on March 27, 2007 in Seoul, South Korea.
Photo by Getty Images
Mong-Koo Chung ushered in the new era of Hyundai Motor Corporation vehicles, moving the company from troubled upstart to a formidable foe for the likes of the Big 3, not just in America, but across the globe, during his 20-year tenure.
Chung's net worth is estimated to be $6 billion, which comes primarily from this family's business. He is the second son of the late Chung Ju-yung who founded the Hyundai Group. His second biggest holding is the auto parts company Hyundai Mobis, where he still serves as Chairman.
According to Forbes, Chung is known as the "bulldozer" because of his "blunt and forceful style."
In 2007, an appeals court suspended a three-year prison sentence for the Hyundai Motor Co. Chairman saying the tycoon is too important to South Korea's economy to go to jail for embezzlement.
In 2020, Chung was number 836 on the Billionaires list, quite the fall from his position at 452 in 2019.
No. 339 – Ernest Garcia III​
If you've shopped for a used car lately, there's a good chance that you've taken a peek at the website of the billionaire at number 339 on the Forbes list. Garcia is the CEO and cofounder of Carvana, an ecommerce platform for buying and selling used cars. The company is perhaps best known for its car towers, which display vehicles and where buyers can pick up their vehicle without having to visit a dealership.
Garcia is worth $7.4 billion according to Forbes.
The Stanford University graduate started his career as an associate in the Principal Transactions Group at RBS Greenwich Capital.
No. 308 – Shahid Khan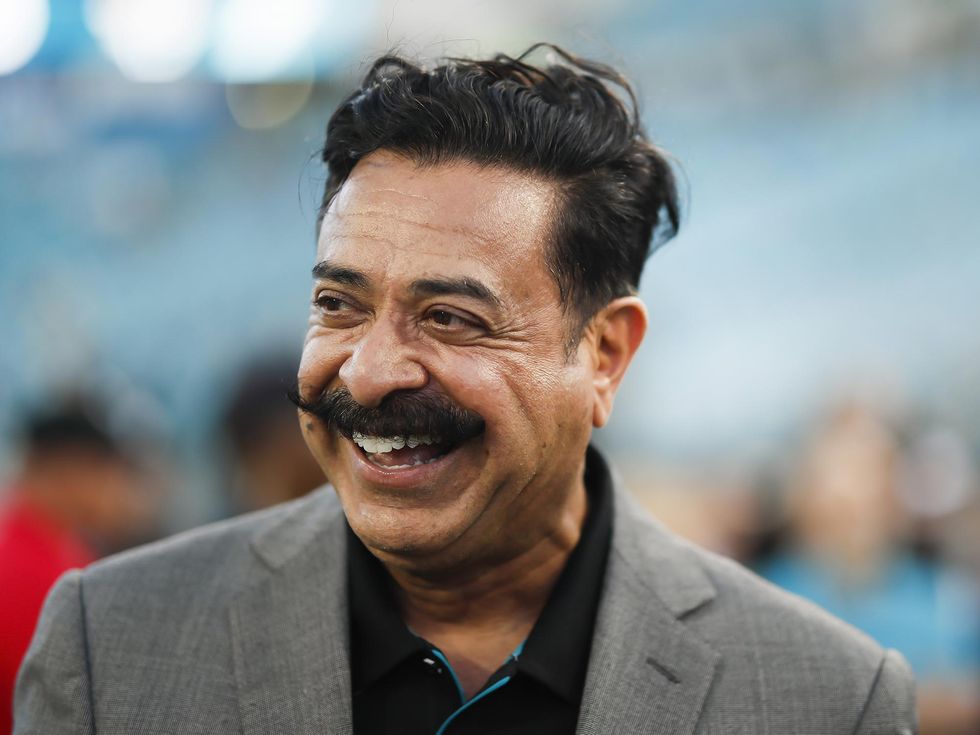 Shad Khan Owner of the Jacksonville Jaguars looks on before the start of a game against the Tennessee Titans at TIAA Bank Field on September 19, 2019 in Jacksonville, Florida.
Photo by James Gilbert/Getty Images
Shahid Khan was trained as an engineer. In 1980 he purchased Flex-N-Gate from his former employer and set about building an empire, thanks in large part to the success of his one-piece truck bumper. The Flex-N-Gate now has 64 plants worldwide and over 24,000 employees.
Kahn's success isn't limited to the automotive industry. He is the owner of Fulham football club and the Jacksonville Jaguars. He and his son, Tony, launched All Elite Wrestling in 2019 as a competitor to WWE. He is a major financial backer of Black News Channel, a 24-hour cable news channel that launched in February 2020.
Kahn is currently worth $8 billion placing him in the 308 slot on the Forbes Billionaires list. In 2020 he was number 183 and in 2019 he was 224.
No. 256 – Lu Xiangyang
Lu Xiangyang and his cousin Wang Chuanfu teamed up in 1995 to launch BYD, a Chinese auto- and battery-maker. Prior to that point, Lu had been working at the People's Bank of China.
BYD currently makes passenger cars, buses, electric bicycles, forklifts, rechargeable batteries, and trucks. The range of products electric vehicles, plug-in hybrids, and gasoline-powered vehicles.
In addition his stake in BYD, Lu runs an investment firm, Youngy Investment Holding Group.
Lu's net worth is $9.1 billion according to Forbes.
No. 173 – Lu Zhongfang
The year was 1999. Lu Zhongfang retired from a pesticides factory in northern China's Jilin Province six years prior. He decided to invest in test preparation firm Offcn.
Today, Offcn Education Technology Co., Ltd. has over 35,000 employees across the globe and generates $1.3 billion in sales each year. There are 1490 companies in the Offcn corporate family.
Lu is worth $12.5 billion according to the Forbes list.
No. 133 – ​Georg Schaeffler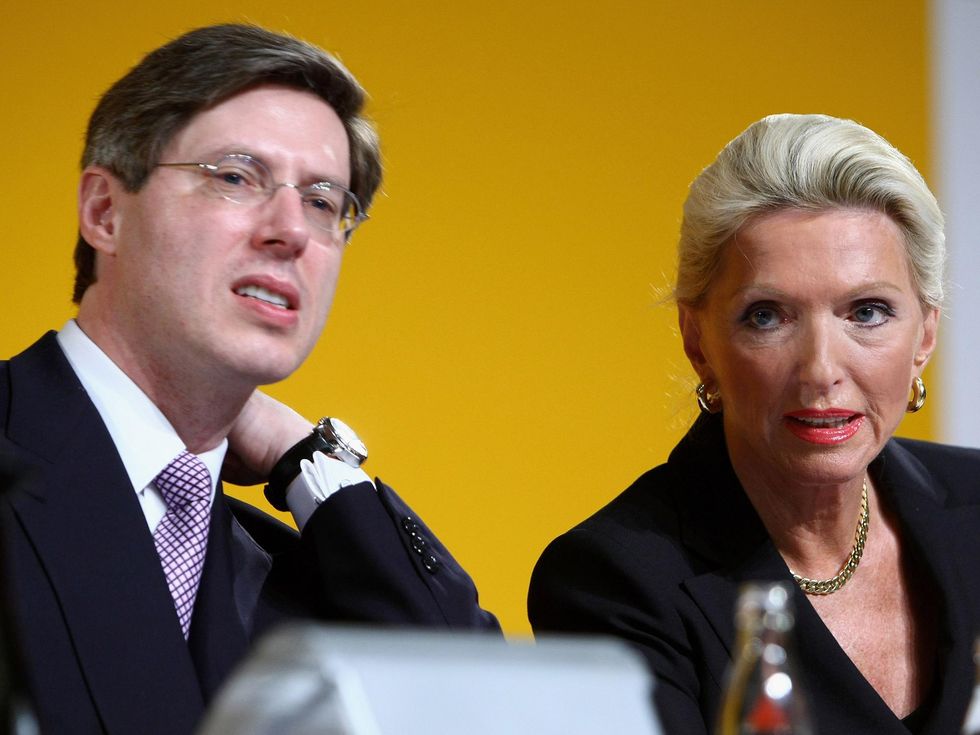 The owner of the Scheffler Group, Maria-Elisabeth Schaeffler (R) and her son Georg F. W. Schaeffler are seen prior to the Continental Shareholder Meeting on April 23, 2009 in Hanover, Germany.
Photo by Joern Pollex/Getty Images
Georg Schaeffler's link to the auto industry is less traditional than many of the people on this list. Schaeffler and his mother Maria-Elisabeth own Schaeffler Group, a global one of the world's largest producers of ball bearings and machine components.
In 2011, Schaeffler Group agreed to a staggered ownership deal with Continental AG and it currently owns over 46 percent. Schaeffler Group also owns the brands INA, FAG and LuK. Schaeffler is the head of the supervisory board of Schaeffler Group and a member of the supervisory board of Continental AG.
His net worth of $14.9 billion has moved him up on the list from his 2020 spot as number 241 and closer to his previous positions at 96, 31, and 36 in 2019, 2018, and 2017, respectively.
No. 128 – Wei Jianjun​
Wei Jianjun is worth $15.5 billion, far more than he was worth in 2017-2020.
Wei is quite the success story. At the age of 26, he took over the debt-plagued Great Wall Automobile Industry Company after working at a carpet factory and a water-pump factory before joining Great Wall. Wei currently the head of Great Wall Motor, which has become China's largest SUV manufacturer.
No. 121 – Ernest Garcia II
Ernest Garcia II is 228 spots ahead of his son Ernest Garcia III. The elder Garcia is the largest Carvana shareholder, which has given him a net worth of $15.9 billion. In addition to his Carvana holdings, Garcia owns DriveTime Automotive, the nation's fourth-biggest used car retailer.
In 2020, Garcia was listed in the 875 position on the Billionaires list.
No. 118 – Wang Chuanfu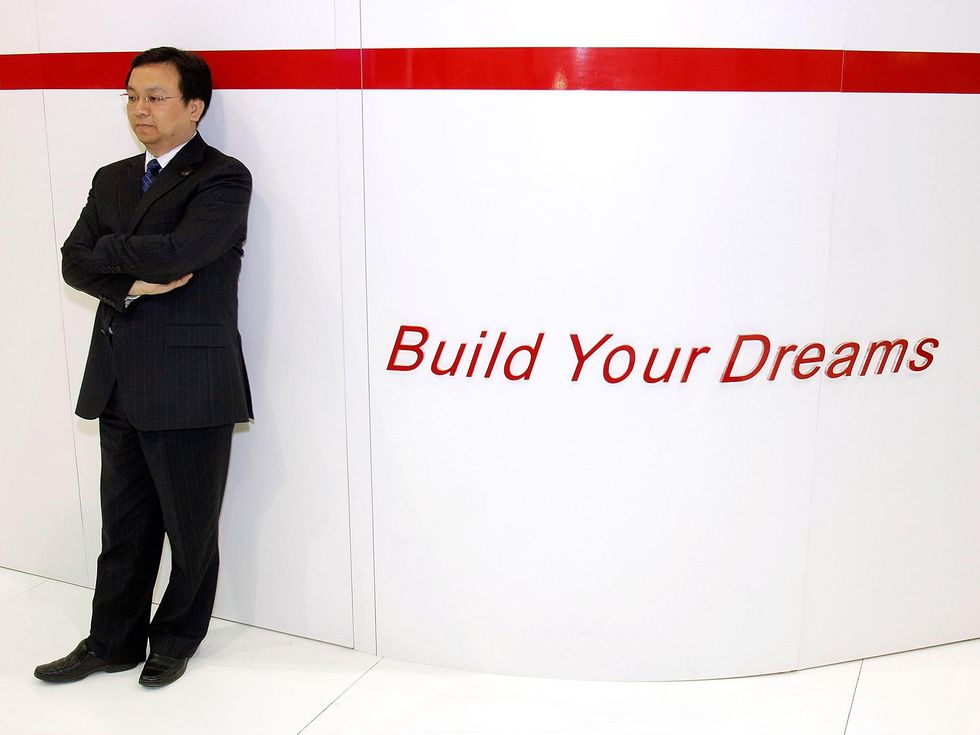 Wang Chuanfu, Chairman of BYD, waits for the BYD press event to begin during the press preview for the Detroit International Auto Show at the Cobo Center January 12, 2009 in Detroit, Michigan.
Photo by Bill Pugliano/Getty Images)
Wang Chuanfu is Lu Xiangyang's cousin and BYD co-founder. His net worth is higher than Lu's – $16.3 billion. Like Wei Jianjun, Wang is a rags to riches success story. He was born in a farm village in 1966 and was orphaned as a teen. He set his sights on battery technology when he was in college and founded BYD in 1990.
Wang's worth is on the rise. In 2020, he was ranked at number 401 on the Forbes Billionaires list and in 2019 he was number 452.
No. 89 – Li Shufu
Li Shufu is the chairman of Geely Automobile Holdings. You might have heard the Geely name before. They're the parent company of Volvo and Polestar, among others, and they one of the few Chinese automakers not run by the government. Geely also owns stakes in Daimler, Lotus, and flying car start-up Terrafugia.
Li has been dreaming about making cars since he was a body, telling Forbes Asia in 2014, ""We couldn't afford any toys. I couldn't imagine making a real car."
Li was listed in the 96 position on the 2020 version of the Forbes Billionaires list. He was listed 91st in 2019. His current net worth is $19.7 billion.
No. 81 – Stefan Quandt
Stefan Quandt is worth $21.6 billion thanks, in large part, to his 23.6=percent stake in BMW. Quandyts mother, Joanna, was the third wife of industrialist Herbert Quandt whose biggest claim to fame is saving BMW when it was at the point of bankruptcy and earning a fortune while doing so.
Quandt is the deputy chairman of BMW's supervisory board. In addition to his BMW holdings, Quandt has holdings in Heel (homeopathic medicine), Entrust (digital identity and data security), and Logwin (logistics).
Quandt has made the Billionaires list since 2017 with positions as high as 42nd (in 2018).
No. 53 – Susanne Klatten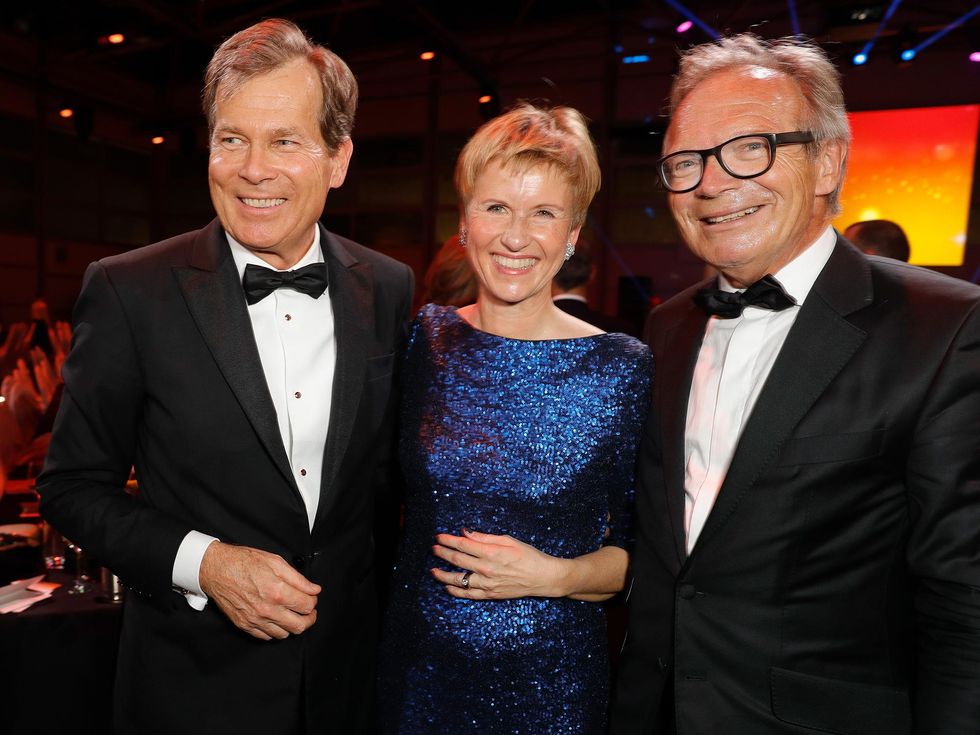 Jan Klatten with his wife Susanne Klatten and Werner E. Klatten attend the German Sports Gala 'Ball des Sports 2017' on February 4, 2017 in Wiesbaden, Germany.
Photo by Andreas Rentz/Getty Images
Susanne Klatten is worth over $6 billion more ($27.7 million) than her brother Stefan Quandt despite owning just a 19.1-percent stake in BMW. Like her brother, she has been on the Billionaires list since 2017 with her ranking as high as 32.
Klatten is an economist by trade. She helped transform Altana AG into a world-class pharmaceutical/specialty chemical corporation. She is currently the sole owner and deputy chairman of that company, which has more than $2.5 billion in annual sales.
Klatten and her brother both hold stakes in Entrust. She has also invested SGL Group.
No. 2 – Elon Musk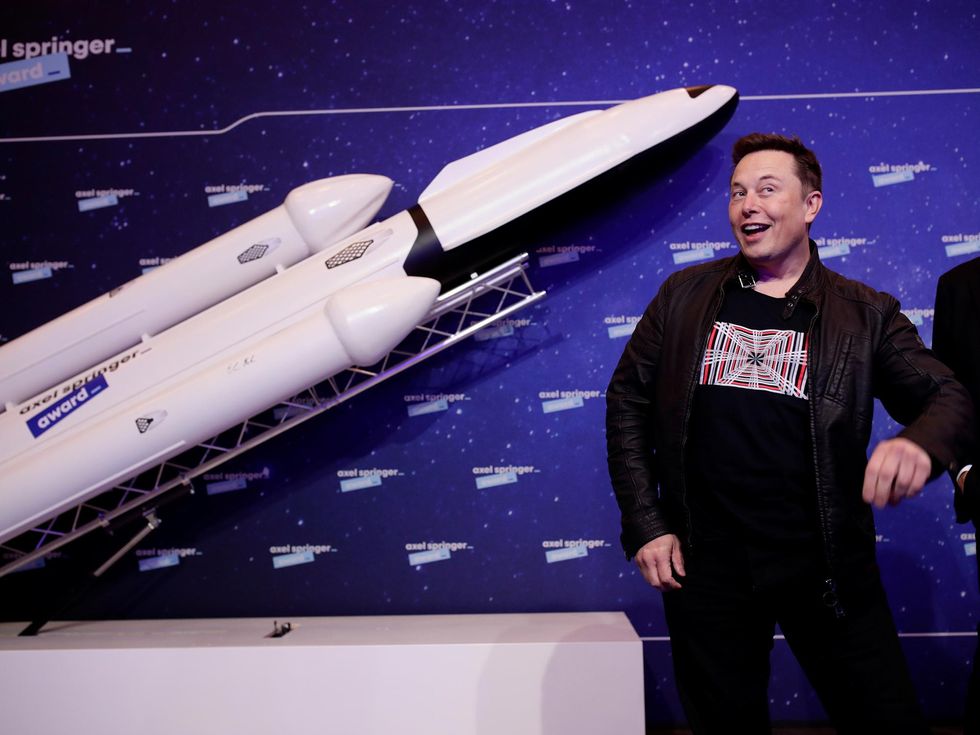 SpaceX owner and Tesla CEO Elon Musk poses next to Axel Springer's Chairman of the Board Mathias Doepfner on the red carpet of the Axel Springer Award 2020 on December 01, 2020 in Berlin, Germany.
Photo by Hannibal Hanschke-Pool/Getty Images
With a net worth of $151 billion, Elon Musk takes second place on the annual Forbes Billionaires list. Musk's holdings and links to the auto industry are pretty well known. According to Forbes, Musk owns 21 percent of Tesla but has pledged more than half his stake as collateral for loans. He also owns SpaceX, a rocket company.
Though much of the conversation surrounding Musk these days is in regard to Tesla and SpaceX, Musk is just as well known for building PayPal into the powerhouse company it is today.
Musk was first listed on the Forbes Billionaires List in 2012.