For the better part of the last five decades, Volkswagen has been investing in all-electric powertrains. Fuel shortages brought on by the oil crisis in the 1970s had them testing EVs and sleek, futuristic aerodynamic vehicles.
Along the way, evolutions of its product lineup and powertrains have moved the brand and its electric vehicle aspirations forward, culminating in the push to electrify its entire lineup as soon as possible.
Scroll down to take a look back at VW's EV evolution. Descriptions of each vehicle have been provided by Volkswagen.
1972: Volkswagen Elektro-Bus/Elektro-Transporter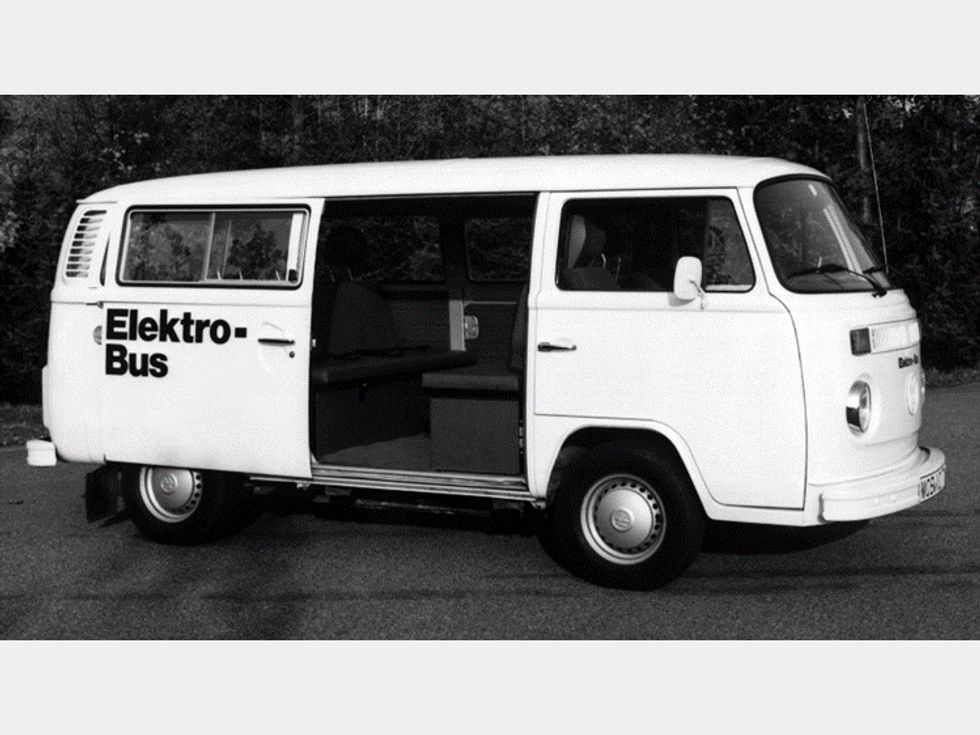 Photo courtesy of Volkswagen AG
In the early 1970s, soaring oil prices and fuel shortages prompted Volkswagen to explore alternative powertrains. An 11-person team developed a battery system that would power Volkswagen's first all-electric concept vehicle – the Elecktro Bus – at the Centre for Future Research in Wolfsburg, Germany.
The 1972 Bus – which had a short production run of about 120 vehicles – was powered by heavy, low-capacity lead-acid batteries. Like most modern EVs, the battery pack was located on the vehicle floor in the center of the chassis, necessary given its size and 1,847-lb. weight. Unlike today, however, its range was a mere 25 miles, and top speed was only 43 miles per hour.
1976: Volkswagen Electric Golf Mk1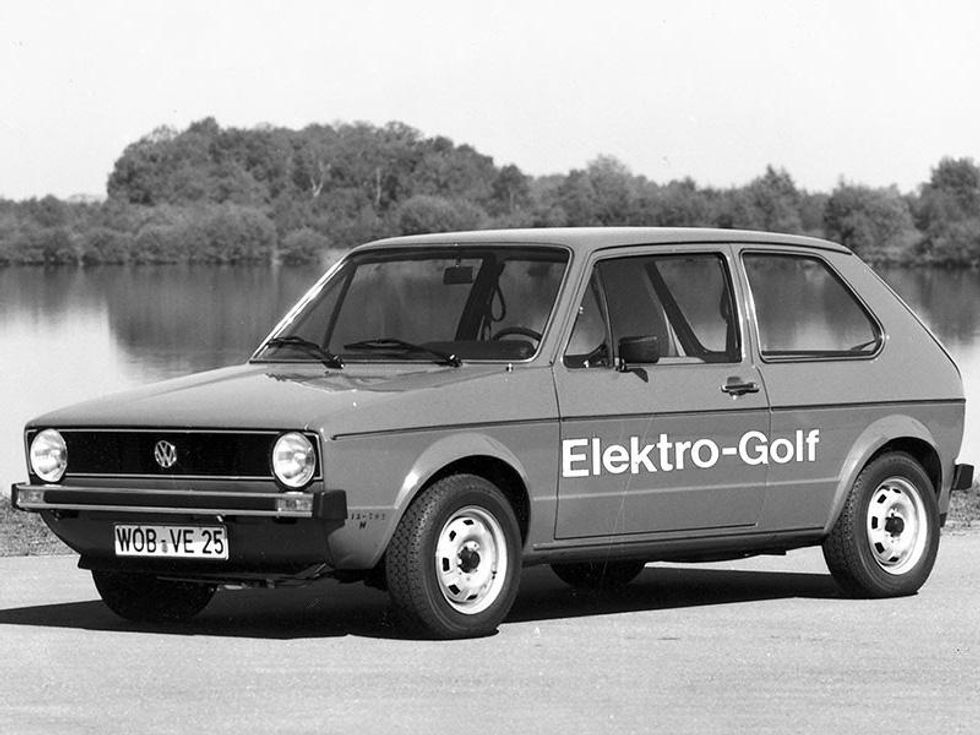 Photo courtesy of Volkswagen AG
At first glance, the Electric Golf Mk1 concept looked like any other Golf hatchback, but instead of a four-cylinder gas engine, it featured a 27-horsepower electric motor and a four-speed manual gearbox. The car's range was roughly 31 miles. Charging the 16.6-volt lead-acid batteries via a 220-watt connection took about six hours – and the battery pack was so huge it required taking out the Golf's rear seats. Volkswagen engineers would regularly drive the model in normal traffic conditions to collect information that helped improve batteries in future models.
1981: Volkswagen Golf I CitySTROMer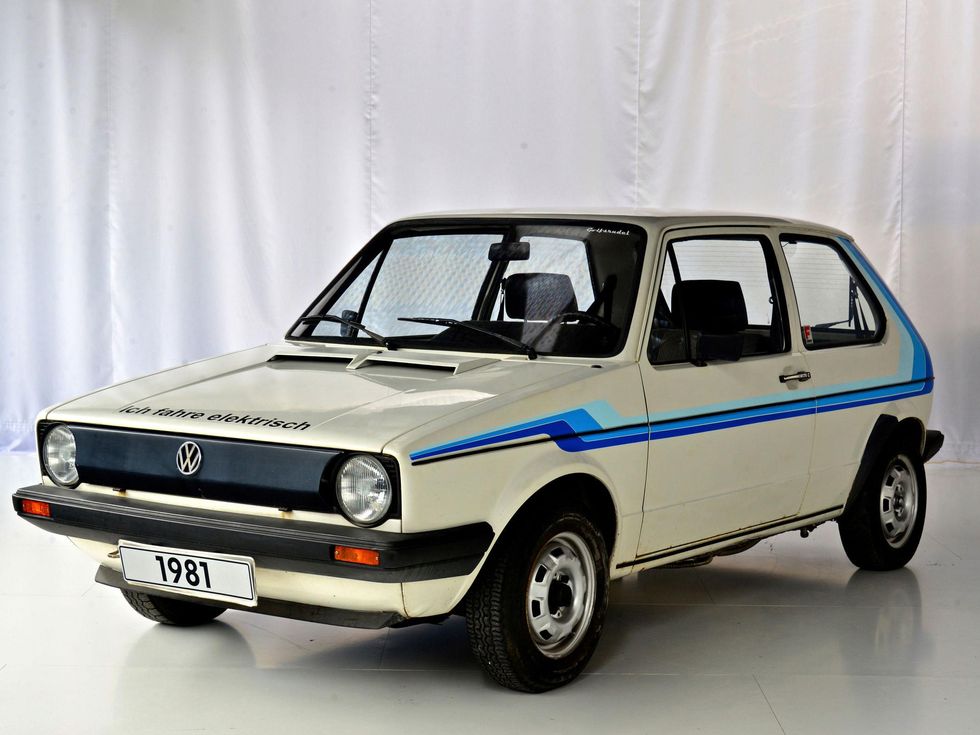 Photo courtesy of Volkswagen AG
Based on experience with the first electric Golf, Volkswagen worked with a German utility to further develop the concept. A total of around 25 prototype vehicles, known as the Golf CitySTROMer, were built as part of a small-scale production run. The CitySTROMer is considered one of the first electric vehicles suitable for everyday use, with room for four people. Its range was around 37 miles and it could travel about 62 miles a day with time for recharging.
1985: Volkswagen Golf II CitySTROMer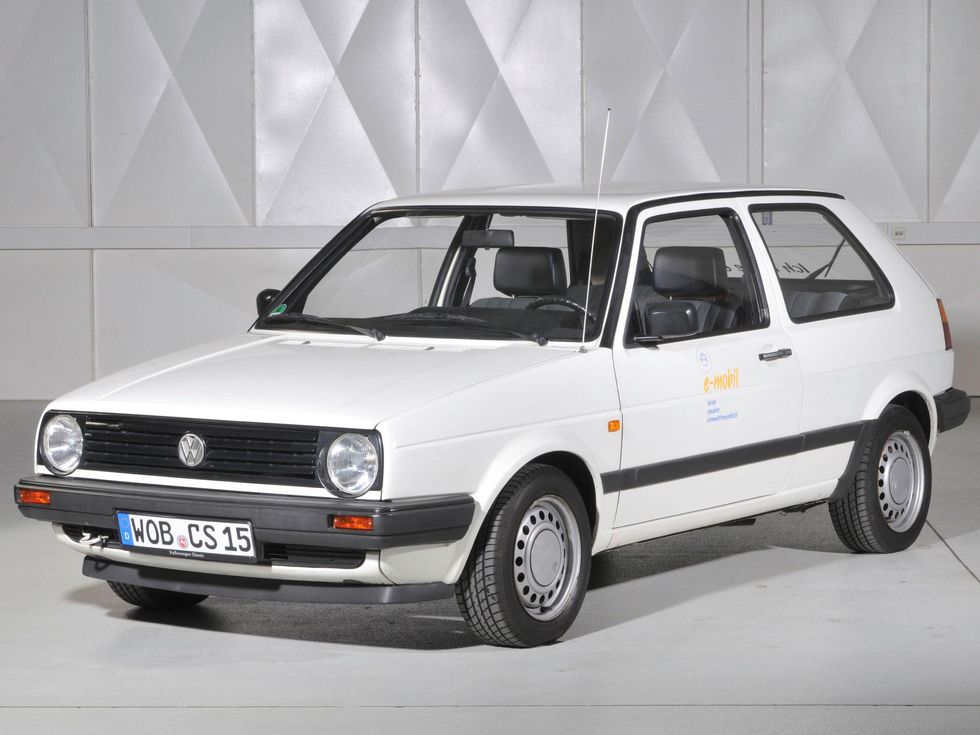 Photo courtesy of Volkswagen AG
The Golf II CitySTROMer was the first electric vehicle built by Volkswagen for series production and eventual sale to the public in Germany. While the range of the Golf II CitySTROMer was down slightly to 31 miles from its predecessor, it offered the innovation of gel-electrolyte batteries carrying 11.4 kWh of energy, cutting enough weight to allow a top speed of 62 mph with its 31-hp electric motor. The 70 CitySTROMers built were mainly used for customer service by power utilities.
1988: Volkswagen Jetta CitySTROMer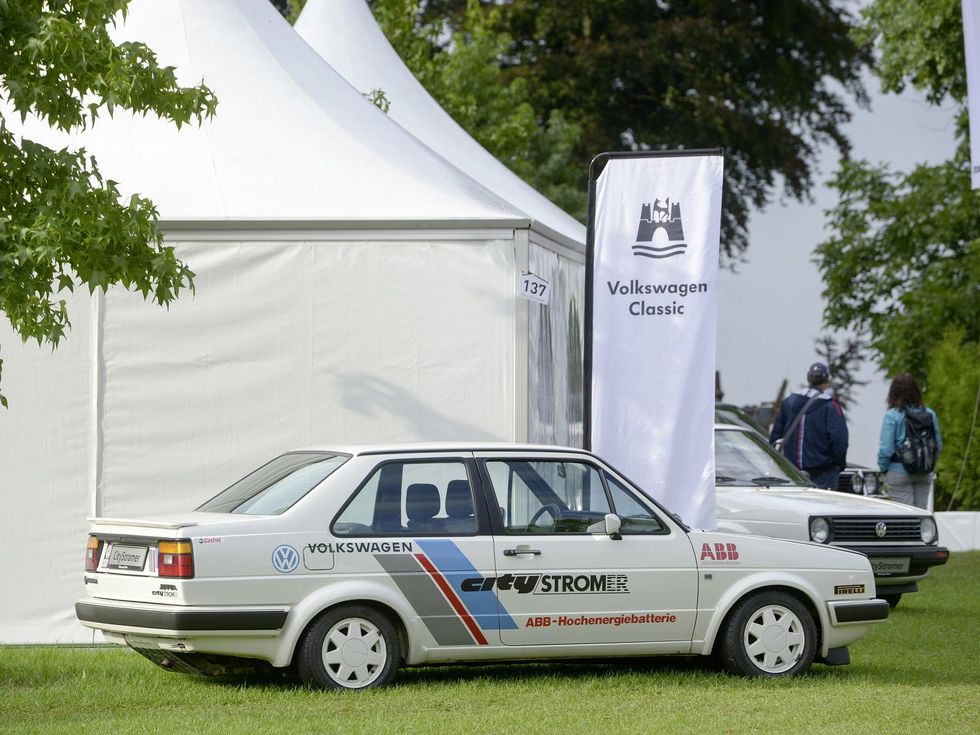 Photo courtesy of Volkswagen AG
Many of the early EV prototypes were designed around the limitations of older battery technology. The Jetta CitySTROMer concept was an early experiment with newer technologies, using sodium-sulfur chemistry instead of traditional lead-acid batteries. The pack weighed half as much as prior batteries, giving the Jetta up to 75 miles of range and a top speed of 65 mph – both extraordinary for their time – but the technology proved unsuitable for mass production.
1993: Volkswagen Golf Mark III CitySTROMer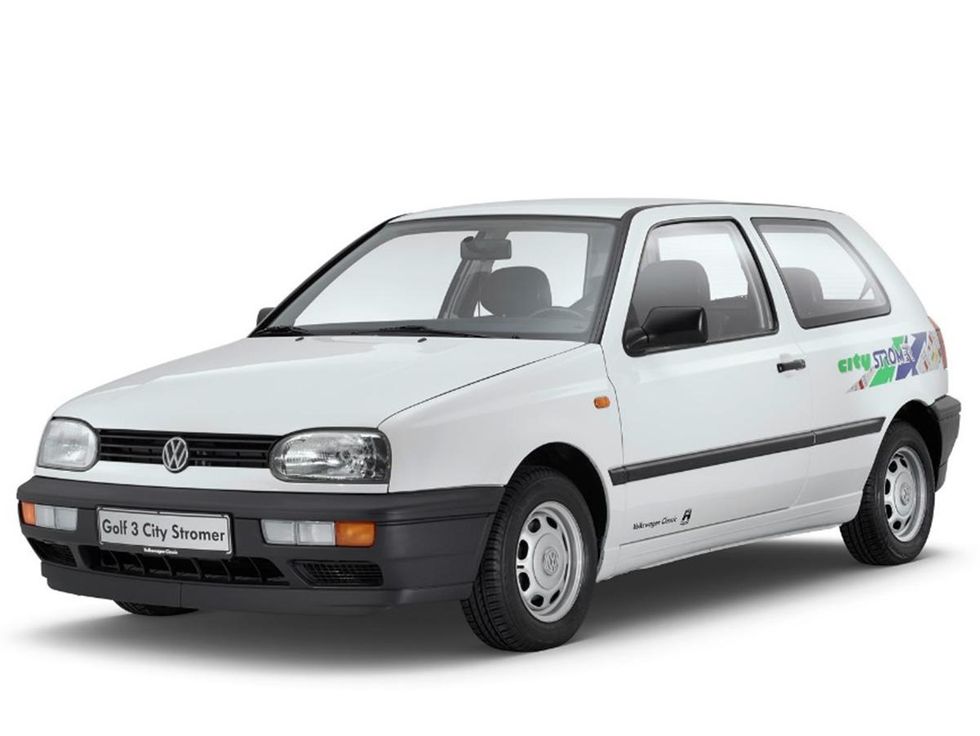 Photo courtesy of Volkswagen AG
When the Golf Mark III was released, Volkswagen revived the CitySTROMer line once again with the latest available technology. The 16 gel batteries could offer a range of up to 55 miles, but now the vehicle could be recharged to about 80 percent in 1.5 hours on a European power connection. The Mark III CitySTROMer also offered the ability to recuperate energy through braking – a key component of modern EVs. Over three years, 120 of the vehicles were built and sold in Germany.
2011: Volkswagen NILS concept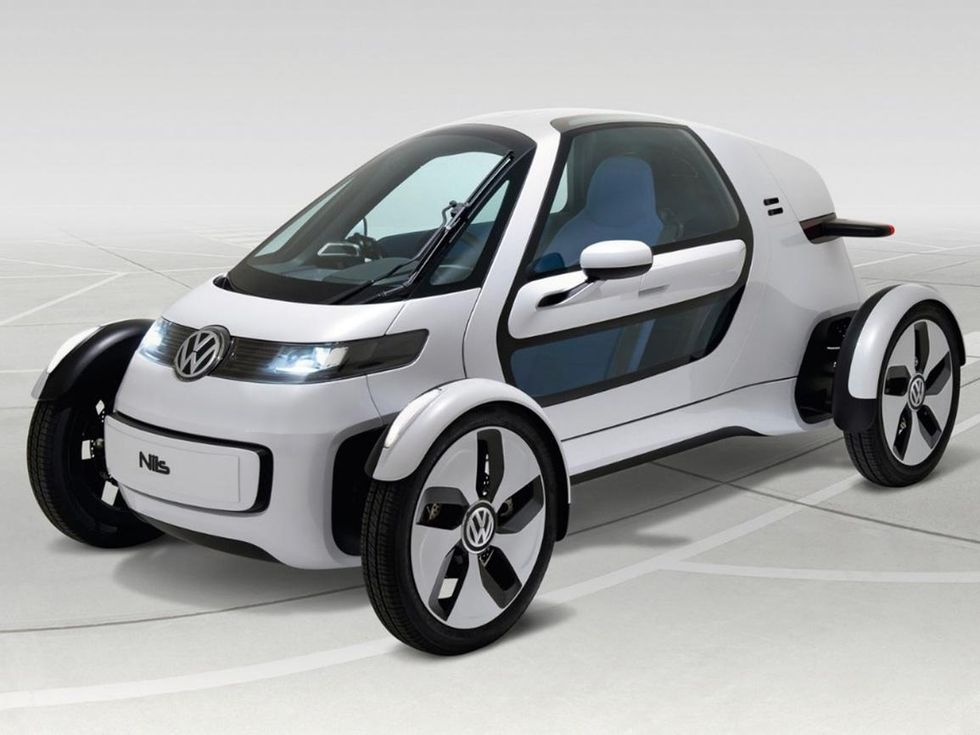 Photo courtesy of Volkswagen AG
With the arrival of lithium-ion batteries, automakers considered wildly creative ways to innovate with the new technology. Debuting at the 2011 Frankfurt Auto Show, the NILS concept was one of the most radical Volkswagen vehicles ever shown – a futuristic take on a commuter car based on "bubble" vehicles from the '50s and single-seat race cars. With a range of about 40 miles from a 5.3-kWh battery pack, the NILS could get to 60 mph in about 11 seconds and took approximately two hours to recharge. It also demonstrated an early version of radar-based braking and cruise control.
2013: Volkswagen e-Golf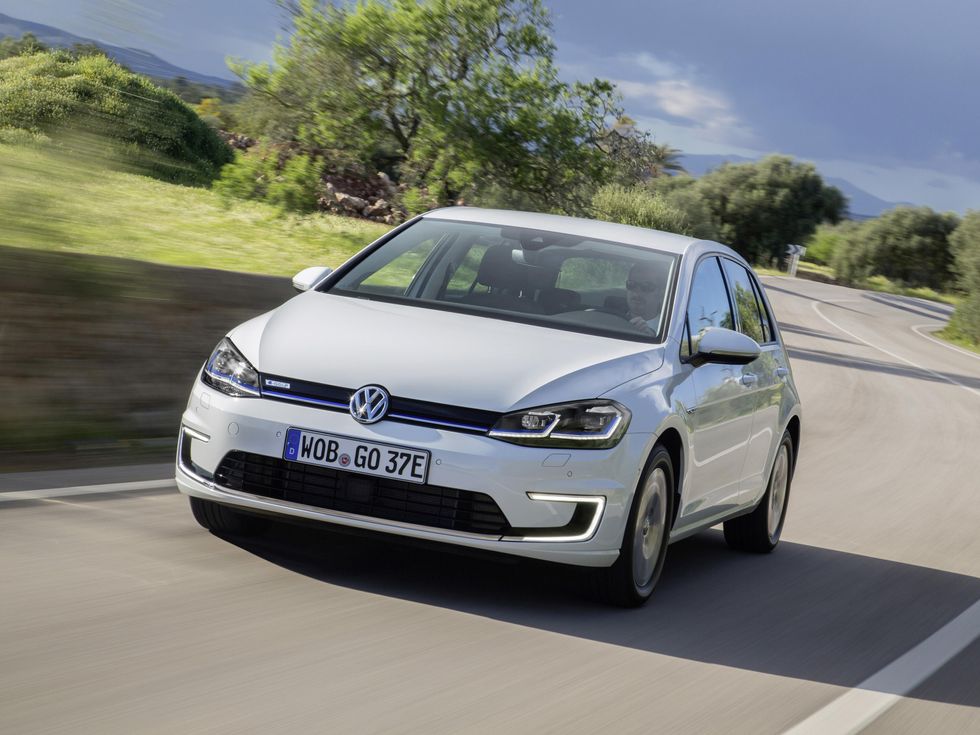 Photo courtesy of Volkswagen AG
The e-Golf was the first Volkswagen model produced in high volume with a purely electric drive and was the first fully electric Volkswagen to go on sale in the United States. The car offered all the benefits of a best-selling compact car, combined with zero tailpipe emissions, an EPA estimated 83 miles of range at launch and a practically silent driving experience. Using quick charging technology (CCS), its 24.2-kWh lithium-ion battery could be charged to 80 percent of its capacity in about 20 minutes. Later models offered an EPA estimated 125 miles of range thanks to more energy-dense batteries.
2018: Volkswagen ID. R Pikes Peak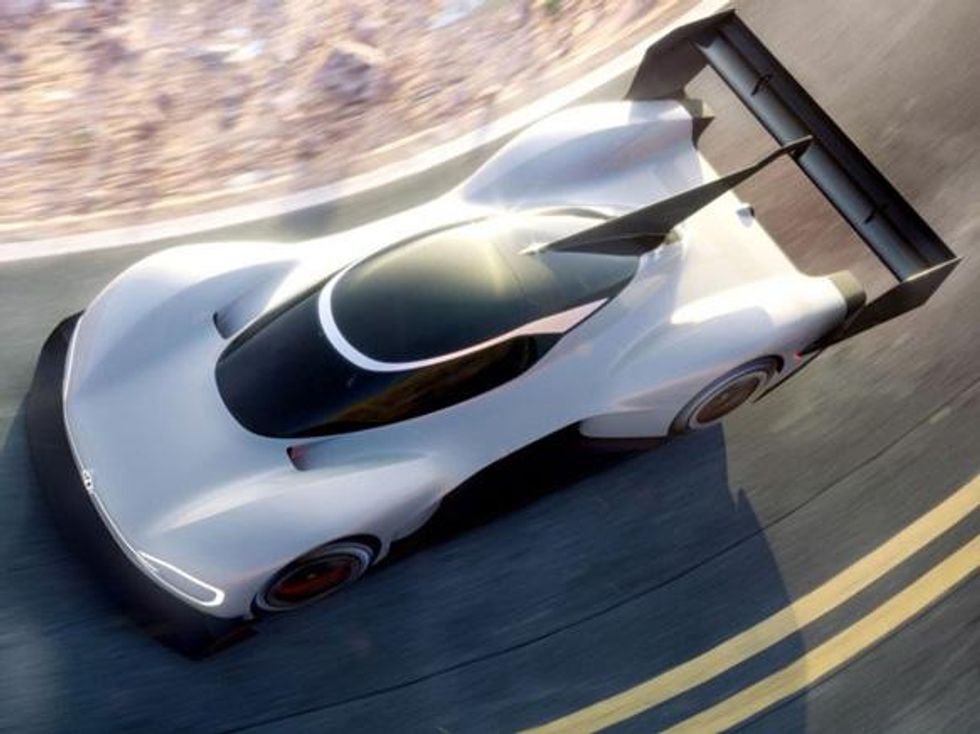 Photo courtesy of Volkswagen AG
The ID. R Pikes Peak was Volkswagen's first all-electric race car and made history at the annual Pikes Peak International Hill Climb. Designed from scratch to maximize aerodynamic advantage, the Motorsports model got its power from two electric motors on each axle, with a total of 671 hp and 479 lb.-ft. of torque, variable among all four wheels. The car not only beat the previous electric record, but the overall record as well — by 16 seconds.
2017: Volkswagen ID. CROZZ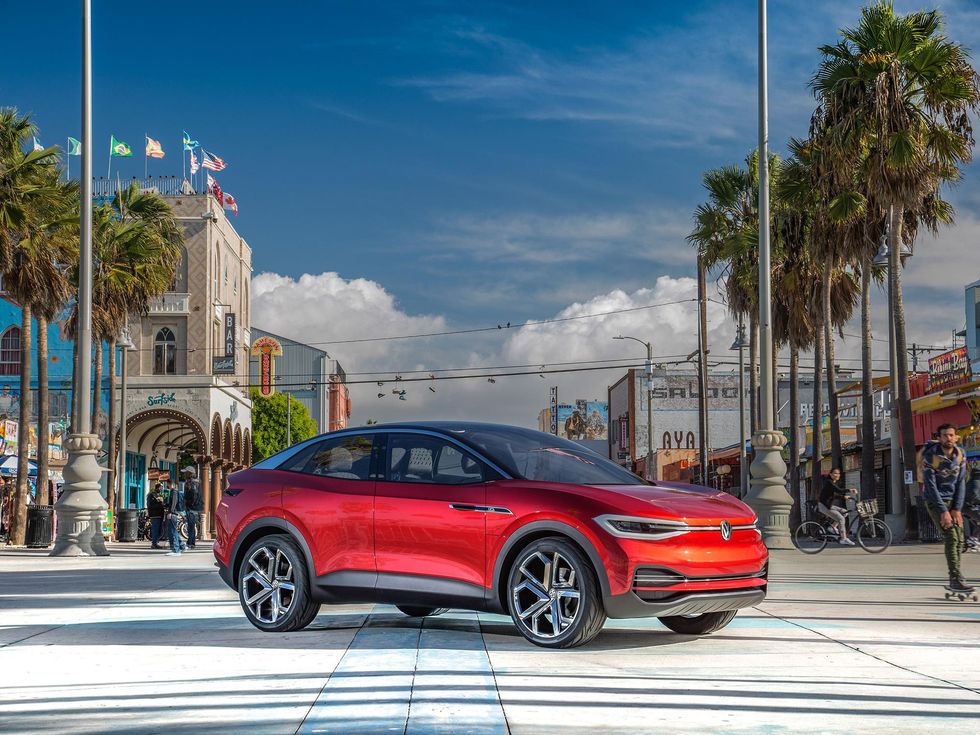 Photo courtesy of Volkswagen AG
The ID. Crozz… carries the future of transportation technology, from its voice-activated doors and trunk to its planned self-driving technology. Sized similarly to the 2018 Tiguan in a four-door coupe shape, with the interior space of a mid-size SUV, the Crozz combines an 83-kilowatt-hour lithium-ion battery pack with a pair of electric motors, one on each axle.
The striking design of the I.D. CROZZ combines clean and powerful styling with dynamic lighting inside and out. When the I.D. Crozz is "awakened" it greets its driver and passengers with a 360-degree light show: first, the glass Volkswagen logos (at the front and in the hatch lid) light up in white.
By activating its daytime running lights, the I.D. CROZZ signals that it is ready to start. When the electric doors are opened, the sensor fields pulsate; as the car drives off, these sensor fields are dimmed. The rear seats offer legroom that's comparable to a luxury car's and fold up when needed for storage.
The interior of the I.D. Corzz uses an "Open Space" design concept to create an airy, flexible cabin with lounge-like amenities, from the Alcantara-covered quilted seating surfaces to the motion-controlled virtual light shade—a feature of the panoramic glass roof that uses LED strips to illuminate the interior.
Drivers can take control of the I.D. CROZZ through the electrically adjustable and retractable multifunction steering wheel, an Active Info Display, an electronic rear-view mirror (e-Mirror), an augmented reality heads-up display and digital door panels. These features, depending on their type, are operated by voice and gesture control, touch displays or capacitive button fields. The middle of the instrument panel features a 10.2-inch touch tablet that handles infotainment, HVAC, and communications functions.
2017: Volkswagen ID. BUZZ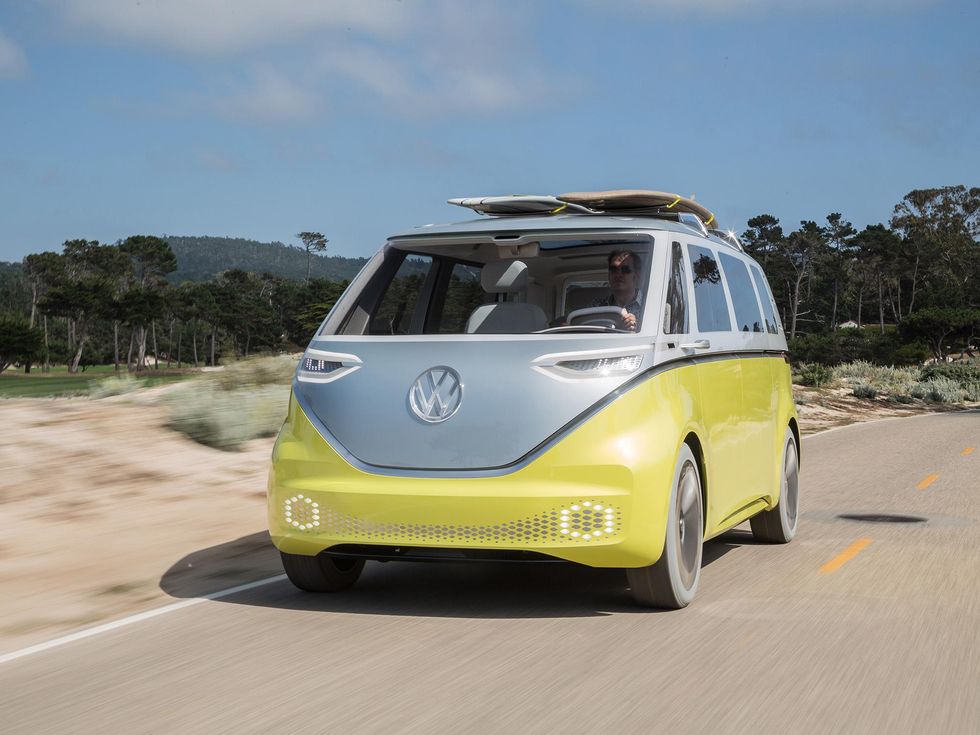 Photo courtesy of Volkswagen AG
Built on the Modular Electric Drive Matrix (MEB), the I.D. Buzz highlights how electric power can be suited to larger vehicles, offering maximum utilization of space on the footprint similar to that of a medium-size passenger car. With the batteries and the drive system that provide an estimated all-wheel-drive range of up to 270 miles housed in the floor, the driver and passengers find lots of space for traveling in comfort – along with up to 162.5 cubic feet of cargo space inside with the rear seats folded.
And while the Buzz carries cues from the past, its technology points to the future – from a retractable steering wheel that senses the driver's intentions to headlights and exterior lighting that can provide communication with pedestrians based on its I.D. Pilot autonomous driving mode. Ambient lighting inside and out provide a visual signature that make the I.D. Buzz unmistakable and timeless.
2019: Volkswagen ID. Buggy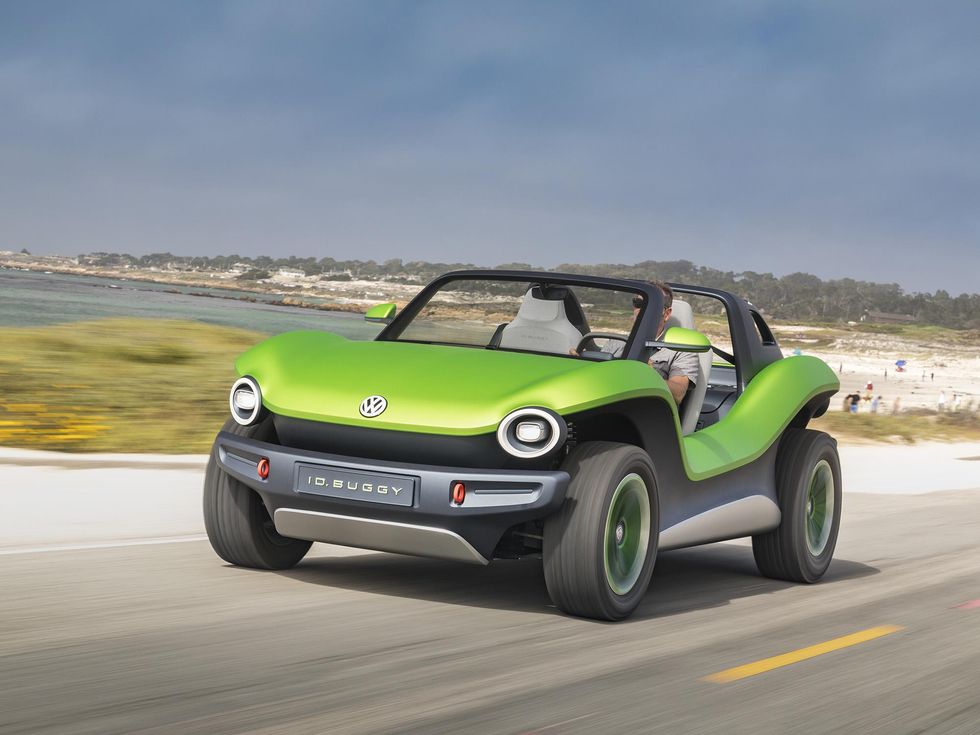 Photo courtesy of Volkswagen AG
Drawing inspiration from the classic dune buggies of the 60s, the ID. Buggy shows the versatility of the modular electric drive matrix (MEB) and puts the fun in functional. The Buggy's modular design allows for the composite upper body to be detached from the MEB chassis, opening up a world of possibilities for custom vehicle production, as the original Meyers Manx kit did for the first buggies.
2019: Volkswagen ID. SPACE VIZZION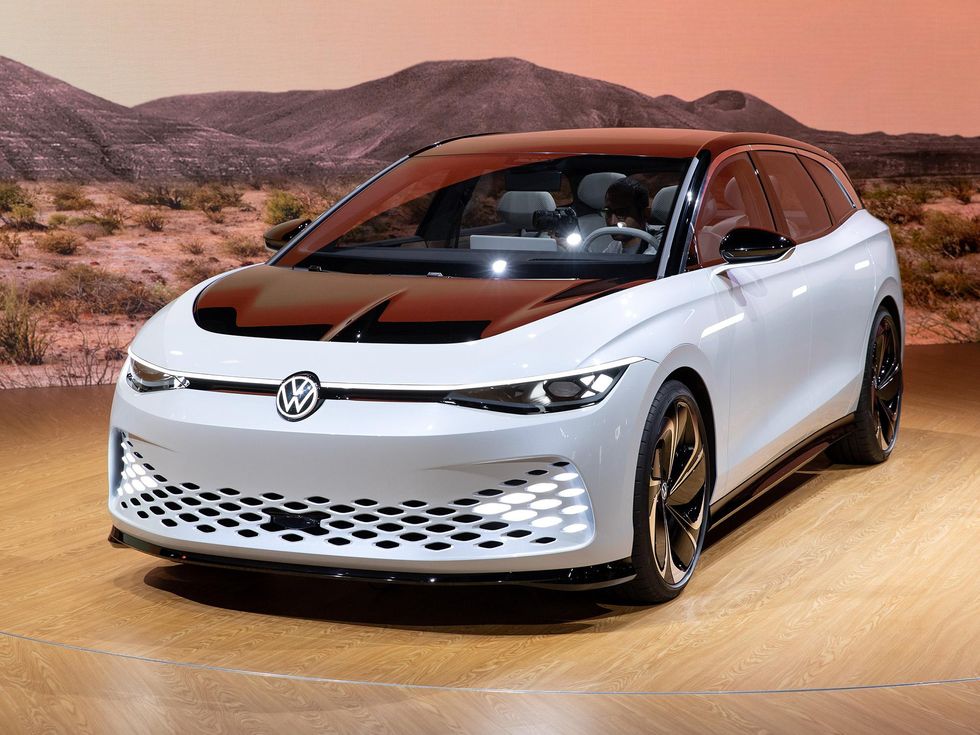 Photo courtesy of Volkswagen AG
The Volkswagen ID. Space Vizzion electric concept combines the aerodynamic design of a Gran Turismo with the spaciousness and versatility of an SUV. With an 82-kilowatt-hour battery and an incredibly low drag coefficient of 0.24, the vehicle has a range of 590 kilometers on the WLTP cycle and a predicted range of up to 300 miles on the EPA cycle. The seventh member of the ID. concept family, the ID. Space Vizzion previews a potential production car for Europe and North America.
2021: Volkswagen ID.4 EV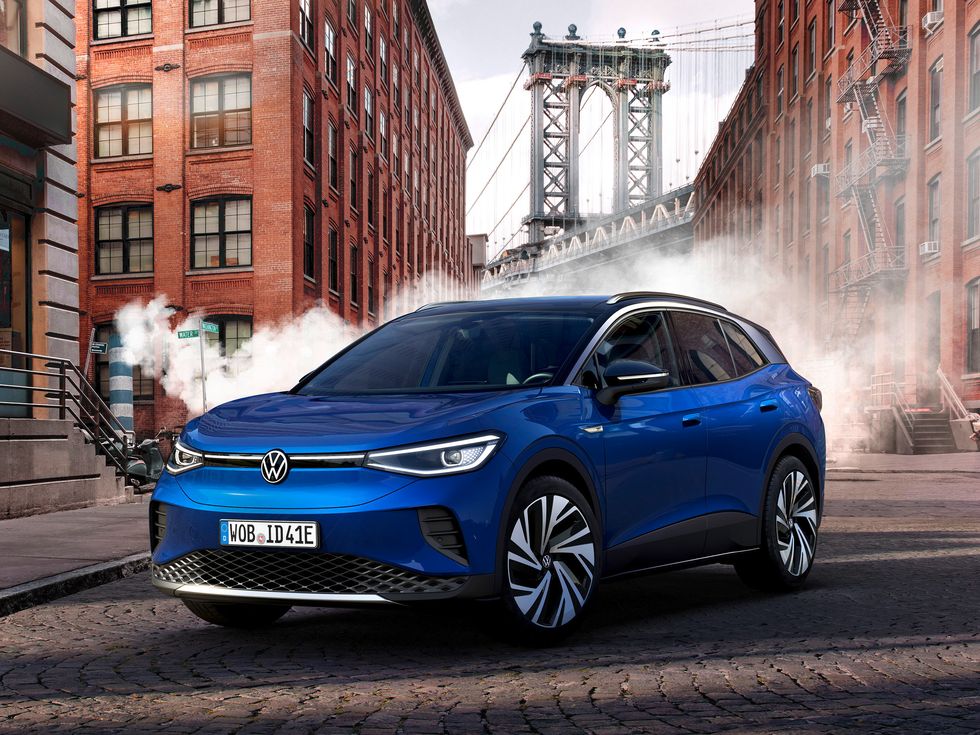 Photo courtesy of Volkswagen AG
Volkswagen's first all-electric SUV arrives with an EPA estimated 250 miles of range for the 1st Edition and Pro S, 201 horsepower, DC fast-charging capacity and a host of features and technology that help make it easier than ever to adopt the EV lifestyle.² And from regenerative braking to an advanced lithium-ion battery in a vehicle with room for five passengers, the ID.4 shows how far EV technology has come over the years.